How to make Nike's Air Max Day relevant again?
The secret ingredient is youth subcultures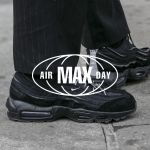 There were years when Nike's Air Max Day was followed in the same way as ComicCon or the Super Bowl-or Sanremo, if you are reading this article from Italy. Those years, however, are gone. From being an exciting event, Air Max Day has gradually become more and more boring - and not because the Air Max model is unsuccessful, au contraire, the release of Corteiz's signature Air Max 95s practically sent half of New York City's road system into a tailspin the day before yesterday, but because many of the models and contributors presented are excelling in their own fields but are no longer able to connect with those youth subcultures with which they once, once upon a time, communicated. Precisely the case of Corteiz, but also that of the continued success that Nike TNs possess among young people halfway around the world, demonstrates that Nike's sneakers are able to say something, indeed, they are able to say a great deal - and they also represent a countercultural symbol that, say, Italian maranza as well as their colleagues in acetate suits and fake Louis Vuitton waistbags around the world have adopted as a manifesto of resistance to a bourgeois uniform against which a group identity can still be claimed. The Beaverton-based brand, however, which also posted 14 percent growths in sales in the quarter ended February, seems to have realized how its own sneaker jubilee has lost luster, which is perhaps why on Air Max Day in three days' time it will unveil a re-release of the original Big Bubble designed by Tinker Hatfield in 1986, an archival gem that will appeal to many collectors that was virtually never released because it was immediately withdrawn from the market and released with a smaller inner tube in 1987.
The return of the Big Bubble and the new Air Max Plus in Gold and Raspberry Red are thus, along with the reissue of the 2003 Air Max 1 "Shima Shima" released in early March, the most culturally significant offerings in a line-up that includes the unveiling of the new Pulse model, somewhat the star of the show, and the releases adjacent to Air Max Day that include the Air Max 1 "Corduroy" and the Air Max 1 '87 "Great Indoors." All three of the Air Max models we have defined as significant, however, still represent references to the past, often even somewhat niche, and continuations of an established heritage without, however, addressing cultural scenes that exist today. If, say, the Maranza community around the world has adopted Nike TNs as an identity symbol for years, what youth scenes or subcultures do the new Air Maxes speak to? The impression given by the "Corduroy" and "Great Indoors" models is that they are variations on the theme, which one may or may not like, but perhaps will quickly get lost in Nike's swirling and often quite colorful inventory. Which is odd considering that indeed only the other day the release of Corteiz's Air Max 95 drew oceanic crowds-even if it did so only because of the presence of the British brand, which, in just a few years, has proposed a new viral marketing model that has struck deep chords in first British and then global youth communities.
Still many remember the legendary Air Max Day when the Nike Air Max 1/97 Sean Wotherspoon was unveiled, with an asteroid-like impact on a sneaker culture in full effervescence. Today things, as mentioned, have changed a lot. How to return to those glory days? The answer is certainly not easy - but one certainty is that, in a now saturated and increasingly fragmented market, we need to recover the meaning and importance of Air Max Day by going looking for it in what this silhouette and its possible variations are able to communicate to the cultural fringes of Gen Z and those that will soon appear with the rise of Generation Alpha. The task is not easy-but after all, given how positive margins show the brand is enjoying perfect health, and given how the company motto is «Just do it», trying to reconnect with the present and make Air Max Day exciting again for the entire fashion community should not be such an impossible challenge.