Is it ever okay to use AI to create a magazine cover?
Vogue Brazil's latest choice has reignited the debate on the relationship between fashion and technology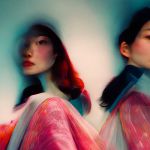 At the beginning of March, digital entrepreneur Danny Postma triumphantly announced the launch of Deep Agency, a virtual service that offers its customers the possibility of choosing from a long list of models to hire for photo shoots of any kind in exchange for a monthly subscription of $29. «Say goodbye to traditional photo shoots» says the site on its homepage promoting, of course, what is its real strength over a traditional agency: the models it offers do not exist. «Hire virtual models and create your own digital twin,» reads the site along with photos of what look like real people. This is not the first time the world of fashion has clashed with the world of technology, especially at a time when artificial intelligence seems capable of creating a better trainer than the one made by Nike and Tiffany, and when the future of models seems to be seriously questioned.
This is the opinion of Sinead Bovell, a Canadian model who had already spoken about the dangers of AI in 2020, citing the case of Shudu Gram, a digital model created via CGI - and not AI - with a CV that included a Balmain campaign and the cover of Vogue Australia, behind whose face Cameron-James Wilson was hiding. At the time, we speak of 2018, the choice of Wilson, a white British photographer, to create a black digital model had generated more than just a few perplexities, prompting The New Yorker to speak of blackface, and the protagonist of the affair himself to hire the Ghanaian British writer Ama Badu as the voice of Graz for interviews and press interviews. Beyond the purely ethical question of the possibility of creating digital clones to be handled at will like puppets, the idea of being able to replace real models with others generated by an AI continues to frighten the fashion world.
a lot of people in this industry are fucking stupid like I'm sorry but this is a slippery slope, actually not even that this is a FREE FALL into making actual creatives obsolete. Just because you CAN do something doesn't mean you SHOULD https://t.co/3U6eEleR91

— LOUIS (@LouisPisano) March 22, 2023
Just a few weeks ago, Vogue Singapore unveiled the cover of its March issue in which the creative director of agency We Create Films, Varum Gupta, paid homage to local tradition through a series of AI-generated avatars. «I strongly believe that AI gives us the ability to express our imagination,» Gupta said when presenting the project - the first under new editor-in-chief Desmond Lim - created using programmes such as MidJourney and Dall-E to create a mix of past and present with a vaguely steampunk flavour. While the cover of Vogue Singapore may be a virtuous example of the use of Artificial Intelligence, used to create worlds and scenarios far removed from the real thing, the same cannot be said of its Brazilian counterpart, where photographers used AI to create the magazine's four digital covers. «They could have just paid black models instead of copying their aesthetics for the cover» commented one user on Twitter, joining the chorus of dissatisfaction with what appeared to be a botched attempt to use technology by circumventing the work of real models.
Louis Pisano, again on Twitter, lashed out at the covers, calling general attention to the risk of normalising artificial intelligence in the fashion world: «when no one in the fashion world gets a job because of AI, everyone will start blaming each other and asking "how did we get here?"» As much as Pisano's position may seem all too fatalistic, it is undeniable that what we saw in Vogue Brazil represents the worst version of what we can achieve by using technology in the service of fashion. If programmes such as Dall-E give us the possibility of amplifying creativity, creating something that would be difficult to replicate in a practical way, these must not become ploys to create a banal reproduction of a product that should not involve codes and algorithms, but a series of professionals who have always been part of the creative process behind the cover of a fashion magazine.