Hermès has no sense of humour
From Maison Rothschild to Xylk Lorraine, better not mention the maison in vain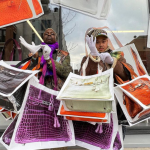 That Hermès has no sense of irony is shown by the numerous legal disputes in which the brand has become embroiled. Copyright for historic brands is a very serious matter and Maison Rothschild being found guilty of 'trademark dilution' by a New York court for the 2021 MetaBirkin NFT is proof of that. On 2 February 2023, a new brand, broadly related to the historic French brand, got a nasty surprise, even if no legal threats followed. Xylk Lorena's Instagram page, with over 20,000 followers desperate to grab his exclusive 'designer' shopping bags, was suddenly removed and shortly after, his Shopify account was shut down without explanation.
Xylk used the Sako (literally 'sack') - Filipino shopping bags - as the basis for luxurious four-sided Birkin and Kelly prints. However, the original idea was not to imitate Hermès designs, but rather to market ironic 'designer bags' by also adapting designs from other brands in a process of democratising luxury. Speaking of lawyers, Xylk says it never received a cease-and-desist letter or was ever contacted by a representative of the brand before its social profiles vanished into thin air. «They asked Instagram to delete our account. Shopify sent me a letter, but it was very vague. For example, they said we used copyrighted names, but we never did» Xylk told Highsnobiety from his Toronto studio. It was a bitter pill to lose an active social media presence he had built up over nearly eight years, but Xylk is glad he still has his TikTok page.
The MSCHF art collective had also experimented with signed shopping bags in one of the many online drops that, between mimicking and mocking other brands, satirise them and cause a scandal. But if they were not surprised by legal action in this case, the same can not be said of the Satan Shoes capsules in collaboration with Lil Nas X, which started with a limited edition Air Max 97 featuring human blood, earning MSCHF an immediate complaint from Nike. It's true, brands have no sense of humour.