Gianluca Grignani is the Italian-grunge icon we don't talk about enough
The people of TikTok have just begun to discover their old clips
Scrolling through TikTok's endless feed, you might come across the page related to the tag #gianlucagrignani discovering that it is close to sixty million views. An achievement that, Vasco Rossi and Eros Ramazzotti aside, far exceeds that of his other "colleagues" of the same generation. The page that collects all the content related to the singer on TikTok is dedicated for the vast majority to his youth, perhaps the most important period of his career, and especially to a clip from an episode of Non è la Rai from 1995 in which a Grignani of about twenty-three years old sings La mia storia tra le dita. Ranking second among the most viewed videos on TikTok is Grignani's participation in that year's Sanremo Festival with Destinazione Paradiso, still one of his most famous tracks. By that time he had established his visual language, which was based as much on music and voice as on the physical person of the singer, with his somewhat teenage dirtbag outfits and the romantic air of an introverted rocker. There's more: in the Italian music scene, Grignani had been able to mix popular rock with a teen idol/poster boy appeal that was expressed abundantly in the pages of Cioè along with such compatriots as Nek, Eros Ramazzotti, Alex Britti, Kim Rossi Stuart, Andrea Pezzi, and the duo Gemelli Diversi.
Of all the names we have just mentioned, however, Grignani was the only one (along with Raz Degan and Enrico Silvestrin as well) who had a truly distinctive look, the only one who kept his hair long and the only one who cultivated a kind of street-boy scruffiness to which the rest preferred a more "well-behaved" patina. Not coincidentally, he was also the only (or at any rate most egregious) instance in which a successful singer among young people moved from music to film by starring in Branchie, a 1999 adaptation of Niccolò Ammaniti's novel of the same name about a teenage couple broken by a terminal illness in full Love Story or The Fault in Our Stars style. Watching those videos again now, however, and reading the hundreds of comments from users marveling at the singer's physical attractiveness, it is impossible not to notice that that somewhat ephebic, maudit charm emerges not only from Grignani's features, but above all from his personal style: the long dark hair, the oversized striped sweater worn over bare skin that immediately evokes Kurt Cobain, the slightly too baggy pants, the black sneakers. It is not hard to see why the girls in the studio followed his movements ecstatically, but it is perhaps less obvious to note how that outfit, and several subsequent ones of which we have traces, are indebted to the very grunge of which Kurt Cobain was the ultimate exponent and the band Green River the initiators. A poster published more than two decades ago by Cioè would seem to demonstrate this ancestry: the photo shows Grignani shirtless wearing a pair of unbuttoned jeans and two fake angel wings. Fake angel wings are one of Kurt Cobain's own most iconic (and melancholy) props from the In Utero album period - and have remained in the teenage drama iconography from Romeo + Juliet to the very recent Euphoria.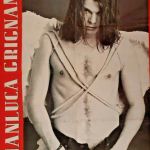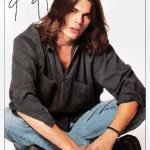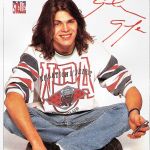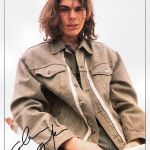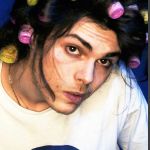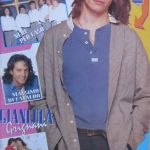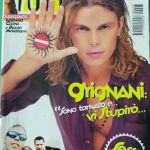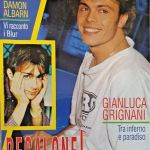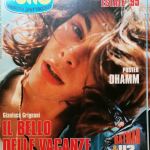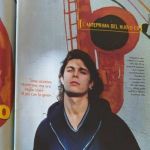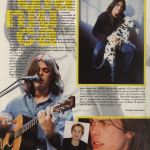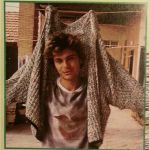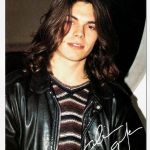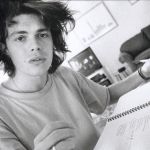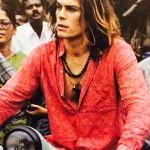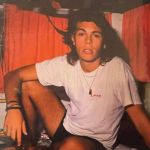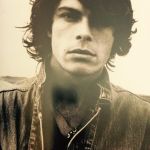 But going digging through the (few) old photos that still circulate of him on the Internet, mostly old posters and editorials from Cioè or TV Sorrisi e Canzoni, it is striking to note how Grignani always tended to be photographed not in suits or colorful sportswear as was typical at the time, but in a combo of denim, strictly unbuttoned shirts, Henley sweaters and old adidas that today would garner an inordinate amount of likes on pages like @uniformdisplay. The style is indefinable because it doesn't really fall into an aesthetic category, but mostly because it doesn't want to put in a box - there's no study behind these outfits, and that's what makes them both so sincere and so akin to the grunge wardrobe that Nirvana, Alice In Chains, and Soundgarden had put together until a few years earlier (and with much more vibrancy). If Grignani's style has gone largely unnoticed over the decades, it is because at that time in Italy no singer dressed particularly well - indeed, they all dressed more or less like anonymous everyman. Of all his colleagues, then, Grignani is also the one who maintained that rock style even in his maturity where others ended up gentrifying themselves and adopting the classic business casual vibe of Italian singer-songwriters reaching middle age. Should we therefore consider Grignani the icon of an Italian grunge icon? Maybe, maybe not. But who could forget about that episode of Non è la Rai anyway?