When the fashion show is in the home of the creative director
Two days ago the Alaïa fashion show was held, strangely enough, in Pieter Mulier's personal apartment
Two days ago, Pieter Mulier, creative director of Alaïa, held his fourth couture show in a very unusual location for a fashion show: his home. Guests, who gathered on the 21st floor of a 1970s building in the city of Antwerp, were seated amidst ceramics and modern artwork on Mid-Century style benches and chairs, and sampled Mulier's favourite beer as they watched the models pass through corridors and bookcases. Some even found their place cards on the corners of the bed carefully covered by black leather sheets for the occasion. The situation was peculiar: instead of a monumental venue, celebrities and the world's leading fashion press found themselves crammed along corridors that had not been designed to accommodate a catwalk - as well as being unceremoniously catapulted into the creative director's domestic intimacy. As the models passed by, the spectators felt the fabrics brushing against their knees, thus being able to admire the collection through touch in an intimate and evocative atmosphere. Mulier's idea, as well as a suggestion from his therapist, was a generous and personal gesture, as well as an ode to the founder Azzadine Alaïa, who lived, designed, cut fabrics and presented collections in the same Parisian house on Rue de Moussy in the 1980s.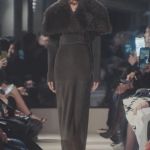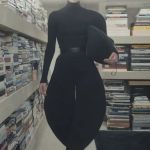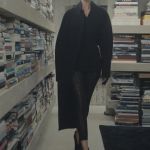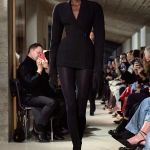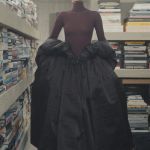 Many years before Alaïa all couturiers hosted clients at home to show collections or perform fittings. Haute couture 'houses', such as the one opened by Charles Frederick Worth in 1858, were born just like this. It was Worth, for historians the father of haute couture, the designer who first started inviting clients to his atelier, when back then designers had to go to ladies' homes with mannequins and fabrics. In the spacious rooms of the English designer's studio, clients could relax sipping tea or champagne while watching the models' fashion show; Worth turned Parisian fashion presentations into social hubs, not just silent encounters between a woman and her tailor. His revolutionary method, later copied by the greats Christian Dior, Coco Chanel and Elsa Schiaparelli, endured until 1966, when the a young Yves Saint Laurent inaugurated his line, marking the beginning of ready-to-wear fashion and lending an ear to the young people swarming the Parisian streets.
for alaïa sf23, cd pieter mulier utilized his own apartment (shared with matthieu blazy) in linkeroever, antwerp to as the collection's show space pic.twitter.com/bmD8b5tRnZ

— maIgosia (@maIgosia) January 28, 2023
Nowadays designers can just like painters frame their work as they wish: some choose deep white spaces, some the Eiffel Tower, some build fountains, others light bonfires. In recent years, not many have opened the doors of their homes like Alaïa in the 1980s and Mulier last week, although there have been a few designers who have chosen domestic settings to create a cosy atmosphere for their collections. First amongst them is Ralph Lauren, who has built an empire on the 'cozy' aesthetic. From its shops to the settings of its shows, every detail of the interior design dedicated to Ralph Lauren clothing evokes images of comfort inaccessible to many: antique furniture in dark mahogany, Persian carpets, wooden ceilings reminiscent of mountain chalets or the undersides of yachts. Everything, at Ralph Lauren, makes for a comfortable environment. In November last year, Ralph Lauren hosted the new Home collection in its Milan home, a 1941 building designed by architect Mino Fiocchi, demonstrating the great role that vintage aesthetics play in the brand's communication strategy.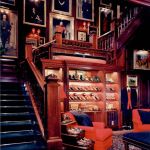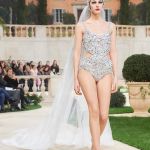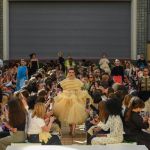 At Chanel, the domestic dimension has also been used in some shows. Specifically, for the Resort 2023 as a tribute to Lagerfeld's beloved Monaco atmospheres. The venue, the Monte-Carlo Beach Hotel, was very close to the Villa La Vigie and one of Lagerfeld's private flats. Karl Lagerfeld wanted to exploit the maison's roots to build cosy environments, albeit with much more pomp and circumstance as the Spring Summer 2019 couture collection, which was presented in a country house called Villa Chanel built like a giant film set and evoking a familiar but still very exclusive ambience. Across the English Channel, on the other hand, there are designers who play with intimate images, although these take a very different turn compared to the old-money look of American Ralph Lauren and Karl Lagerfeld's architectural swagger. Molly Goddard's playful silhouettes have been greatly admired in recent years, thanks to the somewhat childlike look that stirs nostalgic memories in everyone. The most popular fashion shows were certainly the Spring 2020 Ready To Wear and the Fall Winter of the same year. In the first, spectators were sat so tightly packed together that there was little room for the models to pass, therefore being forced to rub the emblematic, voluminous tulle against the guests' legs. In the second instance, industry socialites and buyers were seated in front of a set table, complete with wine and bread. Two very different ways of bringing a little fun and warmth into notoriously snobbish contexts.
With his show, Mulier brought a new intimacy to the catwalk for the modern fashion world, taking inspiration from Alaïa himself and the early couturiers of the 1900s. Mulier's choice to host the show in its own home was a bold move, which, all things considered, the genius of Alaïa would have probably enjoyed.