Luxurious necklaces are disappearing from the red carpets
Latest haute couture shows confirm TikTok theories on recession-core fashion
While around the world normal people protest the rising cost of living, celebrities have given up jewellery to stay relatable. But if once fans were oblivious to the motives behind their favourite stars' looks, today countless trend forecasters on TikTok are unveiling the secrets behind the latest red carpet trends, exposing consensus-grabber tactics stylists use with their clients.
Among the latest aesthetics analysed on the social platform is recession-core, the minimal trend that according to experts on TikTok is about to take over from the y2k maximalism that has gripped Gen Z ever since lockdown. Creator Delaney Bryant (@ufodelaney), after analysing the red carpet looks of the latest Golden Globes and Critics Choice Awards, posted several videos expounding a theory that celebrity stylists have stopped making their clients wear lavish necklaces. According to Bryant, the choice is mainly linked to the inevitable trend cycle that shifts the needle from one extreme to the other and from year to year, just like when in 2020 we went from a collective passion for dainty, subtle jewellery to kids-core: rubbery, colourful bijoux like La Manso's rings. For TikTok creator and New York's Parsons School of Design teacher @emilycarmeli, the reason behind this is different; in her latest videos on the subject, she explains that red carpets are seeing a lot more unusual textures and experimental silhouettes, so adding a necklace could distract or even ruin a look. Among TikTok-ian speculations explaining the disappearance of jewellery from the red carpets, there is also the prediction of the return of the 90s heroin chic aesthetic, which favoured an accessory-free look to flaunt spiky collarbones.
Judging by the looks analysed by these creators, it seems like their theories are not entirely wrong, and the latest couture shows prove it too. At Chanel, models wore chokers with black and white bow ties, Giambattista Valli chose large silver earrings with oversized pearls, and only a couple of Dior models wore overlays of thin strands of dark pearls. None of the simpler gowns were accompanied by sparkling stones, not even in the case of Schiaparelli and Valentino, the haute couture houses that have made opulence their hallmark.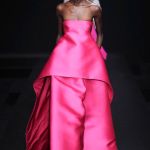 As the McBling trend of the 2000s did with the arrival of post-2008 minimalism, logo-mania has given way to a focus on the quality of materials and functionality of products, which are now mainly dyed in natural colours, including beige, pastel pink, grey and brown. They call it recession-core, but it is nothing more than a subtle retreat from luxury on the part of VIPs, in an attempt not to hold their wealth against their fans at a time of crisis and wars. After all, if Marie Antoinette left rich people with a useful lesson, it was this: when your country is in a crisis, leave the glitz alone. While in the comment section there are those who say that this is all made up, and that celebrities don't care about the economic crisis, trend forecasters respond by explaining that everything in the world is connected, as one of the viral audios on the app says: "No matter where you are, everyone is always connected..."