The 10 tops you really need
The fall winter 2022 fashion selection on Zalando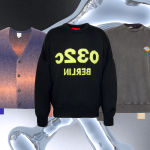 When it comes to knitwear and tops, there are many problems - but also many clues. First and foremost is the seasonal question: which garment best suits the temperatures in winter, autumn, or spring? Personal style and the aura you want to convey also play a role. Preppy, minimalist, sporty, street, formal, every day: styles need to be contextualized according to the occasion. Even though we tend to think from a crossover perspective these days, it's still possible to find some cornerstones for your 2022 autumn and winter wardrobe. We've taken advantage of Zalando's current offer and selected items that will finally allow you to choose the essential knitwear for this season.
adidas 70's Pack
Directly reworked from the 70s style, the adidas model has long sleeves and an all-over logo on a beige background. The fit is soft and slightly loose and perfectly blends retro style with street mood. The soft texture makes it the ideal garment to wear every day, in every season.
Sweater vest
If you love layering and overlapping fabrics, you can't miss the option of a knit vest sweater with a round neckline. You can pair it with a t-shirt or shirt, over jeans, chinos, leather pants, or more dressy pants. You can recreate both soft boy looks and more formal outfits: the styling is in your hands.
Wide sweater
Can conceptual, glamorous and comfy go hand in hand? Yes, if you aim for a monochromatic pattern and use a bright hue. David Catalan's electric blue pattern has a snug fit and allows you to be cozy, yet glamorous. Suitable for all day: just add a few details - bags or scarves - and the look will be adaptable into the evening.
Fluffy sweater
Looking for a characterful, warm logo item? You might consider buying the black fluffy sweater from 032C. With a tapered silhouette and regular fit, this is the ideal item for putting on catchy looks that are not at all obvious.
Soft cardigan
Cardigans can be perceived as boring, overly formal, or uncool. In reality, a cardigan, when paired with the right verve, can make all the difference. Paul Smith's V-neck and the shaded pattern is the best option for your winter looks if you want to look sophisticated and stylish.
Sweatshirt with print
If you are looking for an essential yet recognizable everyday item, Fiorucci's iconic sweatshirt is the right choice. Wearable with any kind of pants or outerwear, it has all the makings of becoming your next must-have.
Skater sweatshirt
Street and preppy can go hand in hand, and yes, they can. The two natures can merge in a sweatshirt like the one proposed by Tommy Jeans: round neckline, logo print, and elastic waistband. This is a must-have to play with different styles, but it is always essential.
Icon sweatshirt
If you like the workwear world and are a lover of distressed or more lived-in finishes, you won't be able to do without the Icon sweatshirt from Dickies. The relaxed fit makes it the perfect companion for denim, but you can also play with another styling.
Logo sweatshirt
Diesel's sweatshirt features a logo print, crew neck, ribbed cuffs, and a regular fit. It matches well with denim and can also be accessorized with a logo belt.
MM6 turtleneck t-shirt
If you're looking for a high-neck pullover that is adaptable to multiple contexts and has character, you might consider MM6's signature model. Featuring a fitted fit and tonal "Six" lettering print on the front, it is made of fine stretch knit and can also be worn at parties.