Gap fired 500 employees in Asia and the U.S.
An attempt to lower costs after yet another drop in sales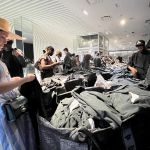 After the end of its partnership with Kanye West, Gap continues to make waves. In fact, the company has decided to lay off 500 employees between Asia and the United States in an effort to cut costs after sales dropped 10 percent from last year. As confirmed by the company itself, the layoffs took place in the New York, San Francisco, and Asia offices, thus going into administrative roles. Of the 97,000 employees recorded by the company at the beginning of the year, only 9 percent were in corporate roles, a number that would drop to 5 percent after the cuts.
The choice is not surprising, especially after other U.S. companies such as Walmart and Abercrombie & Fitch decided to do the same in an attempt to lift themselves out of the general downturn that seems to have affected many American companies. For its part, Gap, after placing a lot of expectations on its partnership with Kanye West already finds itself orphaned by the rapper's work, who after the drop of the three-way collaboration signed with Balenciaga decided to terminate the contract in an unfriendly way.