Summer under the lenses of Palm Angels' new sunglasses
The Milan of unexpected juxtapositions
Cat eye, bold, small or extra large: sunglasses can frame the face by highlighting its proportions or marking its edges. A prehistoric need, that of placing filters at eye level is both an aesthetic, a protection and a technique. Intuition that Francesco Ragazzi, creative director of Palm Angels, decided to translate into a photographic campaign whose aesthetic codes range from the flashbacks of the 1990s to the free vision of the present. Among the streets and asphalt of a Milan in full summer ferment, the frames of Palm Angels eyewear - this is the brand's second eyewear collection featuring new shapes and colors - tell the faces and multiple perspectives of a city that always has something to say.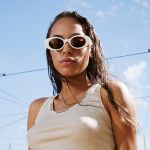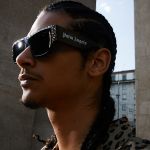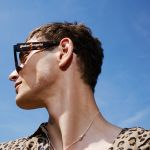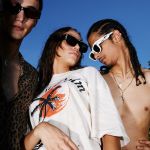 Solid monochromes, with studs, striped or havana patterns, Palm Angels glasses evoke a summer of unexpected combinations. Geometric lines and materials match the boldness with which the gothic Palm Angels logo sits on the sides of the glasses. Between scenarios now pristine, now urban, the design varies from oval to square and stands as inherently genderless. Bold and impactful, the frames unveil contrasting elements and are enriched with special finishes along the thick but extremely lightweight acetate constructions - the production is exclusively made in Italy - that denote durability and reliability.The narrative retraces the cornerstones of summer: lightness, lightheartedness, and self-discovery. Wearing a pair of glasses actually recalls the tireless idea of (re)seeing things, people, and nature more subtly, in a softer light. The warmth of summer, the (con)fusion of day and night, and a mash-up of styles from soft, muted tones to decidedly more eccentric looks encapsulate the bold essence of the new Palm Angels eyewear.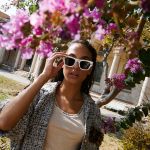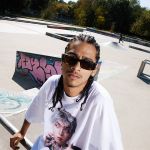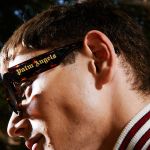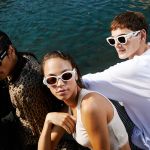 In the park, in the city, or at the beach, Palm Angels' lenses are designed to subvert the normal rhythms that mark the days. Sequins and leopard print by day, low-rise pants, and a glamorous atmosphere that find in eyewear a form of expression and escape from reality. Idleness and fun are the natural continuations of a narrative devoted to the exaltation of individual free expression. All the perspectives observable from Palm Angels eyewear play on the idea of fun and movement: from the vintage atmospheres of the Giorgina and Spirit model to the sculptural and asymmetrical volumes of the Palm and Blanca frames to the rock vibe of Angel and Casablanca or or the unique design of the Pasadena model, hand-painted with a technique that recreates the effect of splashes of black color on the white frame, SS22 is configured as a collection with a bold, strong but essential attitude.
The new Palm Angels eyewear collection is be available on the website, at the new store in Milan on via Verri 4 and at selected global stores and opticians.