TikTok went crazy over a nylon bag from Uniqlo
Views of the hashtag #uniqlobag have reached 17 million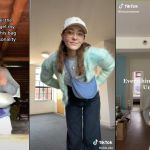 Last month, a British tiktoker posted a video in which she said «this trending Uniqlo bag was sold out in the UK so I traveled to Barcelona to buy one». Just one of the thousands of videos that have been filling the platform for the past few months singing the praises of a hyper-minimal nylon bag that recently appeared on the shelves of the Japanese mega-retailer at the modest price of €12.90. In all the videos under the hashtag #uniqlobag, which has since garnered 17 million views, it is not so much the style and shape of the bag that is being praised as its extraordinary capacity: Pushing the Uniqlo 12£ bag to its limits says another video that has gone viral on TikTok featuring a British girl filling her purse beyond all legitimate expectations. Among the various comment sections, the bag is compared to everything from Mary Poppins' purse to Hermione Granger's in Harry Potter not forgetting the English reference to Doctor Who's Tardis. The antiphon is simple: the bag is inexpensive, it exists in a variety of colors to match every conceivable outfit, it is adjustable and adaptable, but most importantly, it looks small yet it is capacious.
As a product, the handbag seems to be one of those mythological objects that solve the eternal dilemma (which in 2022 concerns both menswear and womenswear) between small but stylish bags and large but comfortable bags. The preference between the two models tends to fluctuate from year to year-this year, for example, the ideal size of the women's bag would seem to have settled around that of Balenciaga's Cagole, another model that marries the intoxication of luxury with a practical vocation. Uniqlo's handbag, however, is not about luxury; on the contrary, its very design seems to have been conceived to "fade" within an outfit, disappearing as much as possible in the look. The notion appears unsettling when we think about today's fashion, a bag that is meant to look just like a bag, without suggesting or evoking anything - a type of efficient design that only Uniqlo could have conceived. Yet the bag went viral soon after it appeared in a video posted by @caitlinphillimore on TikTok last April triggering a chain reaction whereby the bag immediately went sold-out in the UK, soon going viral across the Channel and prompting people from all over Europe to buy it to see for themselves how capacious it was. It won't be surprising if we don't see a luxury version of it on the runway of some mega-brand in Paris or Milan in a season or two.
The bag is normcore in its purest state, almost difficult to describe beyond its semicircle design. An interesting aspect of its design pointed out by several users is the ability to adjust its length to be worn as a long or short shoulder bag or as a shoulder strap. Minimalism and adaptability, then, but not just that: unlike many products that go viral on TikTok for their resemblance to other luxury products, or for the fact that they look like luxury products even though they are not, Uniqlo's nylon bag is appreciated for its smartness. Even the outfits in which it is incorporated belong to that everyday stylistic koine that does not possess the aspirationality of fashion but, rather, finds its very high resonance precisely because of this democratic nature also reflected in the wide variety of outfit types in which it is used around the world, from the most conservative to festival-going. One user on TikTok already mocks the handbag craze by saying that buying it has become the «personality trait» of many girls online-a joke indicative of how "luxury" status is not necessary to create it bag in the days of TikTok and overnight virality, especially when it comes to a bag that can be bought without sacrificing two or three months' salary.