Sleep in fashion, suites and hotels signed by brands
Projecting an entire lifestyle in a single space
Designer furniture lines by Martin Margiela and Rick Owens, a chain of Ralph Lauren branded restaurants and a sushi bar owned by Giorgio Armani: today, brands are no longer just about fashion. Now that big companies are looking for new and surprising ways to reinvent themselves and attract a new generation of consumers, what better way to do this and at the same time expand the acres of their empire than to open a hotel? Luxury hotels are increasingly attractive to travellers, especially at a time when the very definition of luxury is becoming more malleable and diverse. Customers want experiences that go beyond mere products, which is why brands have found the perfect solution to project an entire lifestyle into a single space. Many of them own hotels, located in strategic locations, big cities such as Tokyo, Dubai, London or exotic locations, and able to reproduce a brand's aesthetic far beyond clothing, through architecture and design, in a melting pot of art forms aimed at creating a place anyone would want to return to. Here are five 'signature' spaces, including entire hotels or customised suites, that stand out for their aesthetics.
La Maison des Champs-Elysées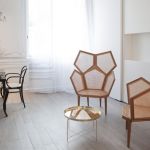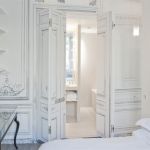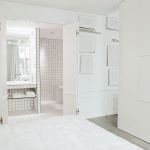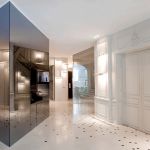 Located in Paris is La Maison des Champs-Elysées, the hotel that Maison Martin Margiela renovated in 2011 inside the historic Maison des Centraliens, at the intersection of Avenue Montaigne, the Grand Palais and Place de la Concorde. The brand, which is no stranger to interior design experiences, found itself for the first time realising an ambitious project with the collaboration of painters and lighting architects, imprinting its own artistic signature with furnishings with a surrealist allure. Several suites, a restaurant, a fumoir, a bar and a reception area: an immaculate oasis in which white reigns, with walls with art nouveau decorations contrasting with highly selected, ultra-modern furnishings.
Casuarina House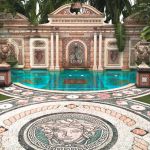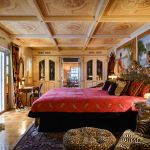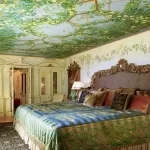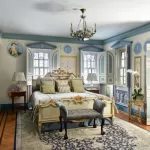 Versace offers an unforgettable experience in all of its hotels, from Australia to the United Arab Emirates, but among the brand's various destinations there is one with a particular past. "To read Proust I have my home on Lake Como. Here, in Miami Beach, I don't want another monastery to live in. I want a place to read Truman Capote" - Gianni Versace said in an interview with Time. Today his house, as well as the place of his murder, is, according to many, one of the most beautiful and prestigious hotels in the world: 800 dollars a night to live like one of the greatest fashion designers ever. The mansion, now a hotel, is called Casa Casuarina, but everyone in South Beach knows it as the 'Versace Mansion', bought by the stylist in 1992, and since then this great baroque house where maximalism reigns in full Versace style.
Armani Hotel Milan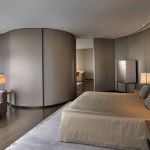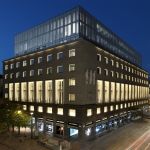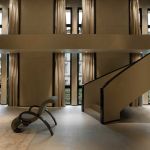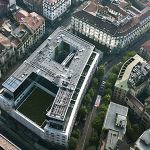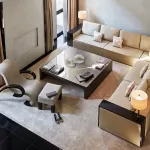 The Armani Hotel Milano, the second to be opened by the Armani Hotels & Resorts chain after Dubai, located inside the Burj Khalifa, is housed in a rationalist palace on Via Manzoni, designed by architect Enrico Augusto Griffini in 1937, a short distance from Via Montenapoleone. The current structure, with its high panoramic windows, is the result of restoration work carried out in 2006 by architect Barbara Patrizio of the Design Lab studio. The furnishings, with strong references to the bamboo motifs dear to the designer, are by Armani/Casa both in the common areas and in the 95 rooms and suites: a modern and bright environment to which it is impossible not to want to return.
Pegaso ETRO Suite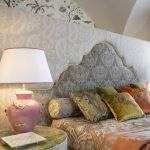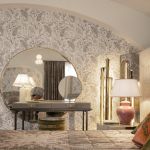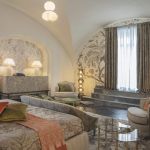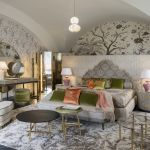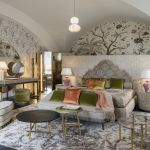 Located in the most evocative corner of the island, where nature reigns supreme, the Punta Tragara Hotel is an exclusive residence overlooking the sea designed by Le Corbusier, the famous Swiss architect, who imagined it as a magical place where 'the body, heart and thought are sheltered'. Suspended between sea and sky and set in this unique architecture, the Pegaso ETRO Suite is a space capable of enhancing, with the unmistakable style of the ETRO Home Interiors furnishings, the elegance of this exclusive context between typical patterns of the brand and exotic charm and bright colours.
Dior Suite at the St. Regis Hotel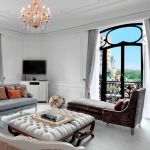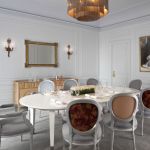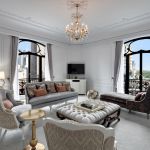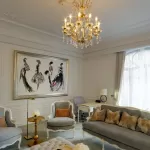 Nestled in the heart of the concrete jungle that is New York, the Dior Suite at the St. Regis Hotel is designed to teleport anyone who enters into a Parisian suite with a view of the Eiffel Tower. Original elements such as Waterford crystal chandeliers and elegant crown mouldings, brightly coloured fabrics and beautiful beveled mirrors, all accompanied by a personal butler to attend to your needs at any time of day or night in Midtown Manhattan.