We don't deserve the return of sneakers with suits
Some trends are better left in the attic
Buried in the collective memory and far from the public eye, there are some trends that have rightfully gone to the attic in the hope that no one will have the courage to pull them out of their cavern full of bad taste. A bit like a cursed doll in a horror movie, no one should ever disturb an ancient evil slumbering for decades, an evil that in this case has taken the form of sneakers combined with the elegant suit. A classic coming straight from 2010, a symbol of the effortless look but which, after enjoying a brief period of mild tolerance, has increasingly become the symbol of bad taste second only to wide-brimmed hats. If in recent years only characters such as Robert Downey Jr. have had the audacity to flaunt it with worrying carelessness, recently the number of sightings has slowly increased, raising a certain anxiety about the return of what honestly none of us would like to see anymore.
Before Kieran Culkin, who walked the red carpet of the Met Gala wearing a Dior suit and a pair of Converse, Pete Davidson did the same during the White House Correspondents Dinner, sporting a pair of Vans combined with a suit. Nothing new for the comedian of SNL, who years ago had done even worse, combining a pair of Nike MAG, the ones from Back to the Future, with a classic slim suit having also the courage to put the pants inside the sneakers. If Pete Davidson's look dates back to 2016, in more recent times it was Justin Bieber who did worse, showing up at a meeting with French President Macron wearing a pair of Nike Dunk.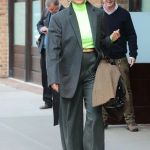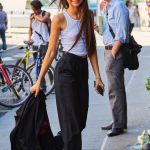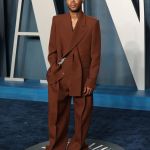 If on the one hand there is no shortage of cases to forget, on the other hand the combination of suit and sneakers is not always synonymous with bad taste, but rather, if worn in the right way can become a viable alternative to the more formal look. Zendaya, Tracee Ellis Ross and Kid Cudi are the first three cases that come to mind, but to avoid committing a stylistic murder you just need that little bit of commitment capable of making an outfit come out of the universe of the scumbro avoiding to make you look like the nice friend who proudly sports the shirt with the tie drawn, but maybe it's better to forget that one. If on the one hand the hope is to have taken a blunder, on the other the number of sightings of sneakers matched to the suits have increased worryingly, as also written by Jacob Gallagher on Twitter. If it's true that fashion is cyclical, every now and then we should understand when it's better to leave in the attic those trends that we should all forget.