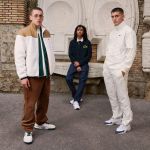 Since the appointment of Creative Director Louise Trotter at the Lacoste house, fresh techniques of innovation and intricacy have been introduced to the house, as she' has reinterpreted the heritage of the brand and ushered it towards an alternate direction. A shift in the brand's image has also consequently involved a shift in the direction of their footwear sector, which we see through the release of three new sneakers that summarize the Lacoste aesthetic of recent decades while pathing a new course for the future: the Ace Lift, the Storm 96 Low and the Court Drive. A story told through the new editorial of nss magazine starring Tredici Pietro, Luca Santeramo and Farid Chaher shot in Milan in the Gardens of Porta Venezia.
The Ace Lift is inspired directly by the G80 model of the Lacoste archive and worn in the editorial b rapper Tredici Pietro, formally known as Pietro Morandi. The silhouette is reinterpreted through subtle design touches and through the branding that closes the iconic crocodile symbol of the brand, within two lines that evoke the shape of the tennis court. New in the collection is the Court Drive, worn in the editorial by Farid Chaher, model, creative entrepeneur and fashion styling student at Polimoda Firenze. The Storm 96 Low is instead the ideal heir to the first running shoes launched by the brand in 1996, and worn in the editorial shots, by the sneakerhead and content creator Luca Santeramo. Thanks to its design, it is the boldest and most remarkable sneaker of the new line-up, both the closest and most faithful reinterpretation of an iconic design by Lacoste.
Together, this line-up of sneakers represents a perfect synthesis of Lacoste's past and future and, more generally, of sportswear culture as such. A perfect reflection of the new creative direction wanted for the brand by Louise Trotter.
"I grew up with the myth of the Lacoste pole. The first one I wore was long-sleeved black. Growing up I continued to dress the brand and these sneakers have the same iconicity as my first black polo shirt."
- Tredici Pietro
"Clothes are important but they can't beat sneakers. A sneaker can revolutionize every outifit in no time."
- Farid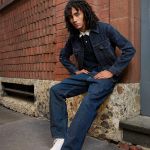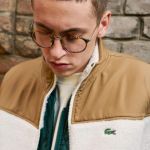 "Like all super clean silhouette shoes, the Storm 96 Low is incredibly versatile. Not only is it perfect with almost every outfit, but it also shows how high the quality of lacoste's work and its creative director is."
- Sante