Who is Jacob & Co., the jeweler of streetwear?
His watches are favourites of Virgil Abloh, Drake and Ffloyd Mayweather
Jacob Arabo, the Americanized name of Yakov Arabov, is an Uzbek-American diamond cutter whose fame is explained by the nicknames with which he is known: Jacob the Jeweler and King of Bling. His jewelry and watchmaking business, Jacob & Co., founded in 1986 in the heart of Manhattan's Diamond District, became so legendary that it appeared in the video game Def Jam: Fight for NYZ, as well as being mentioned in the songs of Beyoncé, Nas and Jay-Z. In 2009 he collaborated with Takashi Murakami and Pharrell for an exhibition at Art Basel in Miami, in 2013 Cristiano Ronaldo himself became his brand ambassador while, a few years later, he collaborated with Kanye West on the jewelry of Yeezy Season 4, with Colette and with Bugatti. Travis Scott, Ffloyd Mayweather and Drake often wear his opulent diamond and sapphire watches, and the diamond cutter recently announced a collaboration with Virgil Abloh for the Office Supplies jewelry collection.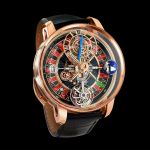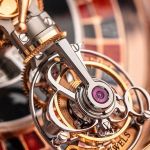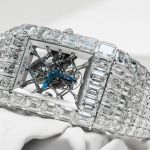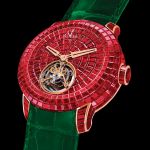 To measure the mere technical complexity of his creations, just consider the latest watch that the King of Bling has created for Drake, the Astronomia Casino. A 620,000-dollar piece with an 18-carat rose gold case and sapphire crystals that contains a time display, an exposed tourbillion, a magnesium globe and a one-carat diamond with 288 facets. All these elements are just the beginning because they rest on a working miniature roulette wheel and also equipped with a ceramic ball. But for all its complexity, Drake's Astronomia Casino is a toy compared to the Billionaire Watch bought two years ago by Ffloyd Mayweather who with his 260 carats of diamonds set on a white gold frame comes to cost as much as 18 million dollars. A watch so opulent that it almost disfigured the one of 1,800,000 dollars seen yesterday on Virgil Abloh, a Caviar Flying Tourbillon that contains 424 gems, mostly rubies, that encruste a case of rose gold. The watch's crown is also a single carved ruby, while the strap is made of crocodile leather with gold buckles.
Equally gem-laden are the staples necklaces that the King of Bling and Virgil Abloh have created for the Office Supplies collection. Every single paper clip is made of 18-carat gold, both yellow and white and pink, and encrusted with diamonds. The collection wants to both elevate everyday items to jewelry, not dissimilar to what Yoon Ahn does with AMBUSH jewelry, and maintain that DIY aesthetic that allows staples-jewelers to transform into money clips, bracelets, earrings and necklaces. Here's how Abloh talked about the collection:
"With jewelry design, not only is technical sophistication important, but also lineage. That's the foundation for pieces with meaning. Jacob for me has always been innovative, particularly in the notions of merging design sophistication and the pop-culture emanating from the streets".
You will not find the Office Supplies collection online or in store, anyone who wants it will have to write an email at [email protected], request the special order form that will later be viewed by Jacob Arabo and Abloh themselves, who will create jewelry on commission in a period of six to eight weeks.