TikTok star Noen Eubanks is the new face of Celine
Featured in a series of shots by Hedi Slimane
Celine and Hedi Slimane have chosen Noen Eubanks, the teen idol become popular thanks to TikTok, as the new face of the French brand. The eighteen-year-old influencer was photographed by the same creative director in a series of black and white shots wearing perfecto, striped crop tops and black jeans.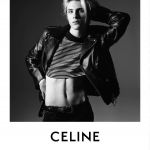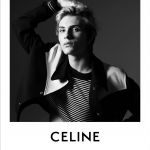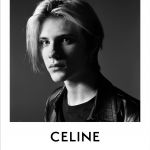 The success of Eubanks was phenomenal. Coming from a suburb of Atlanta, he joined TikTok only in 2018 and now has a fan base of 7.5 million followers. How? Thanks to a mix of elements that made him irresistible: a beautiful face (he looks a bit like River Phoenix), bad guy allure and videos in which he experiments with makeup and hairstyle, dances, lip syncs, plays with flashes and neon effects. For Noen, who last May signed a deal with the "youth entertainment company" Kyra, the Celine one is the first haute couture campaign. Definitely a big change for a guy who just a short time ago, talking about his personal style and how it evolved making him a pioneer of the e-boy look, said:
I used to not dress like this whatsoever. I would never even think about it. Most days I go out I'm wearing makeup and my hair is dyed crazy colors and I'm wearing these crazy clothes. A year ago I would have never done anything like this. Not that I wouldn't want to, I just wouldn't have the confidence, I wasn't comfortable enough. Especially where I came from, it's just not an acceptable thing.
After Cameron Dallas for Dolce & Gabbana, Emma Chamberlain for Louis Vuitton and Rickey Thompson for Alexander Wang, now it's up to Noen to turn from social star to model for a great Maison. It is a sign that luxury brands can no longer ignore the impact of these platforms especially on Gen Z and it is predictable, as several insiders say, that more and more companies will move to TikTok to reach new customers and connect with new generations.