Op-ed: LVMH's CEO Bernard Arnault's second meeting with Donald Trump puts fashion's political pyramid into perspective
In fashion we are all held accountable for our actions (except if you're a billionaire)
Every now and then, in between seasons, the collections of a few fashion houses may be influenced by the highly political times in which we live. Some designers may often use fashion as a vessel to tell stories or stand in solidarity against certain social issues. For instance, the past few seasons Maria Grazia Chiuri has used her Christian Dior collections as a championing voice for the cause of feminism and female rights; Stella McCartney uses her clothing and her personal platforms to raise awareness around climate change and sustainability; Virgil Abloh since his appointment at Louis Vuitton depicts alternate ideas of black identity; and Rihanna, the owner of Fenty Maison & Fenty Beauty, has clear ideas of issues such as immigration rights. These brands are only a few of the LVMH-owned names that have expressed their clear liberal stances against a few controversial social issues both through the designing of collections and through their personal platforms.
Yet, this Thursday, the pinnacle of this luxury fashion conglomerate, LVMH chairman and CEO Bernard Arnault along with a few of his executives are set to once again join hands with Donald Trump — a republican who denies the existence of climate change, has been accused of sexual assault on several accounts and proudly holds a "build the wall" stance in regards to immigrants.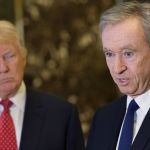 Now some may classify the meeting set for today as strictly and simply business seeing that its purpose is for Louis Vuitton to follow up on their pledge to provide a number of new jobs for American workers. Yet a few things including Bernard Arnault's recent comments in referral to climate Activist Greta Thunberg as "demoralizing" and the mere fact of them meeting and turning into a photo op for the press makes us wonder if the world's second-richest man may have a bit more in common with Trump than we thought. Louis Vuitton already has two workshops in California, so it may be in question as to why they are now opting to open a new factory in the middle of the woods in Texas, however, it seems as if the French company is getting a pretty good deal. Two years ago, the Johnson County implemented a 75 percent tax abatement, which allows businesses registered in Texas like this Louis Vuitton factory to have around $91,900 deducted from the amounts which they would have had to pay for taxes. The local commissioners meeting to approve this deal was apparently filled with residents in opposition, but regardless, it was approved.
It may not seem like much now, but in the context of fashion, everything is representative of something greater, "just business" also comes with expectations. Brands, designers, and even magazines are held responsible not only for their actions but for the actions of who they choose to associate and do business with. Last season, a few New York-based brands pulled their shows from the famous Hudson Yards building after finding out the brand's developer Stephen Ross was financially supporting Trump's re-election; Net-a-Porter & Yoox pledged to pull Dolce & Gabbana products from their Chinese platforms following the D&G scandal and Vogue ceased their relationships with photographers Mario Testino & Bruce Weber after multiple allegations of sexual assault. If any of these platforms hadn't made the necessary steps to disassociate themselves from their controversial business acquaintances, it's likely they would have then experienced the social and financial consequences which came with it.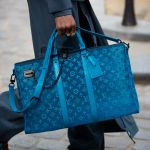 So it's safe to say in fashion we try to hold our people to higher moral standards including within our business relations. So does this exempt French billionaires? If any designer was photographed shaking hands with Donald Trump or any of his counterparts, their brand would possibly experience major backlash following the photo's release, but the truth is Arnault sits too high on the throne of his 100.1 billion USD net worth to currently suffer any real backlash of partnering with someone such as Trump. A multiple brand boycott would only leave scores of innocent workers without jobs as they get caught in the crossfire, which would make no sense. However if not more careful with whom they shake hands, the French conglomerate could suffer consequences in regards to shaping the future of their brands, as the new wave of promising upcoming designers including names like Marine Serre, Kerby Jean Raymond, and Richard Quinn come with strong political views that do not include the likes of figures such as Trump.