'Donna sotto le stelle' was the tv show that brought high fashion to the Italian audience
The show broadcasted from Trinità dei Monti in Rome marked a specific period of time
If you grew up in a small town, you know it well: the arrival of every summer coincides with a series of events organized by the municipality to entertain its inhabitants. These range from amateur theatre to cover band concerts, from open-air cinema to a parade under the stars during which the town's hairdressers present their best creations combined with outfits found in local shops or in some low-cost chain while in the front row, sitting on plastic chairs, there is a group of old people and women who complain about the temperature.
Before social media and live streaming, this was one of only two ways for an ordinary person to experience a fashion show. The other was watching Donna sotto le stelle on TV, an upgraded version of your childhood memories spent in the Italian suburbs. The ingredients remained more or less the same, just replace the facade of any town hall with the coolest Spanish Steps in Piazza di Spagna in Rome and to add a handful of high-profile brands such as Dolce & Gabbana, Armani, Versace or Cavalli.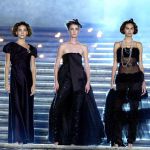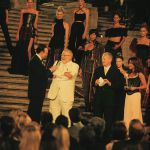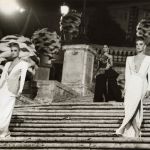 The event, organized by the National Chamber of Italian Fashion for the conclusion of the Roman High Fashion Week, aired every summer, broadcasted by Rai 1 from 1986 to 1992 and, later, until 2003 by Canale 5. The format was very classic: the host (Milly Carlucci, Gerry Scotti, Cristina Parodi, Pippo Baudo, Mara Venier, Sabrina Ferilli,...) briefly introduced the designer and the collection, before leaving room to the creations, worn by emerging models such as Mariacarla Boscono and popular stars such as Carla Bruni, Linda Evangelista, Christy Turlington, Naomi Campbell, Claudia Schiffer, Cindy Crawford, Laetitia Casta and Valeria Mazza.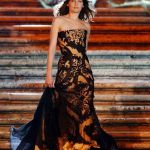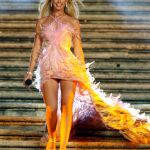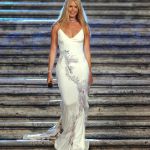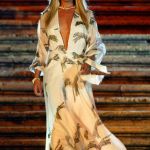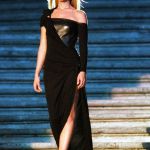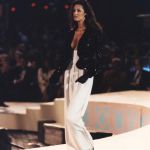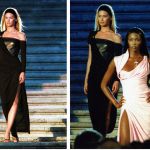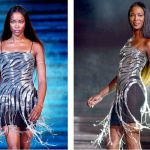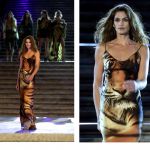 One by one, the models went down the 136 travertine steps of Trinità dei Monti, hiding among them a special guest, usually chosen among the television celebrities of the period (from Ambra to Sophia Loren, from Valeria Marini to the last winner of Big Brother). To complete the television liturgy there were some musical performances distributed between a catwalk and the other.
So, for one evening a year, Italian families enjoyed, between a Cornetto Algida and a piece of watermelon, a pinch of glamour and dreamt while watching Valentino and his homage to the Ziegfield Folies or the architectural constructions of Gianfranco Ferrè.
A few years ago, questioned about a possible return of Donna sotto le Stelle, Silvia Venturini Fendi, president of AltaRoma, excluded it:
It was a television show, an image linked to the past. Rome has extraordinary locations (remember Fendi's show at the Trevi Fountain?) but to use them you need a lot of money that we don't have. We limit ourselves to offering "technical" fashion shows like in London or New York where the catwalks are "zero containers" for insiders and you can only see the dress.
If the adventure of fashion on TV from the staircase symbol of Rome seems over forever, surpassed by a more immediate and informal enjoyment guaranteed by the web, it's up to nss to remind you of the three cult moments of the show.
Dolce & Gabbana, 1995
Dolce & Gabbana at its very best. In the 1990s, the scandals and the racial incident with China were still far away, and the design duo was able to show a Mediterranean style that combined sensuality and tradition like no other. Domenico and Stefano call two of their favourite stars, both embodying their ideal woman, Isabella Rossellini and Monica Bellucci, to represent their aesthetic and make it known to the television audience as well.
Valentino, 1995
Twenty years later, in 2017, the black Valentino dress worn by Claudia Schiffer during an edition of Donna sotto le Stelle has become protagonist again. The creation, in fact, was auctioned off with a record price estimated between 40,000 and 50,000 euros. The details that made it so precious? A black silk velvet bustier, lined and modelling interior with support strips, velvet straps with elastic and bows, a wide skirt with four rigid underskirts, eight pleated tulle skirts gathered in various layers with nine large velvet flowers.
Versace, 1997
July 15, 1997. At 9:05 a.m., in Miami, Gianni Versace was murdered by Andrew Cunanan. Santo and Donatella, the designer's brother and sister, are in Rome for Donna sotto le Stelle's final show. Beppe Modenese, then president of the National Chamber of Italian Fashion, vividly remembers that day:
I was walking down Via Sistina when I noticed a crowd of people gathered in front of the Hotel de Ville. Among these, I recognized fashion people, and I asked them what was going on. "They killed Versace," they replied. When I entered the hotel, I asked the concierge who was in the apartment of the Versace. - Modenese went up and found a heartbreaking scene - "Donatella and Naomi Campbell were crying and screaming. Santo was standing, petrified. As soon as he saw me he said: "No. Gianni can't be dead, Gianni doesn't die."
The show's appointment was cancelled and rescheduled in September. In tribute to Gianni, his favourite models walked for free with Versace creations. Jasmine Le Bon, Eva Herzigova, Valeria Mazza, Esther Cañadas were all very moved, especially Naomi Campbell.