Levi's x Heron Preston
Featuring the 501 jeans and Hailey Bieber
Today, 20 May 2019, is the 146th anniversary of the birth of the original blue jeans, the iconic Levi's 501.
To celebrate the event and to give a new look to one of the items that has made the history of fashion, the brand has chosen to join forces with Heron Preston. The American designer created a small capsule collection inspired by the chaotic contemporary digital era and composed of two variants of the 501, one for men and one for women.
The first model is characterized by the use of the front and back panels of two different 501: one with a tie-dye pattern in black and white, the other is a classic washed denim with flattened Red Tab in correspondence to a reverse back pocket. The women's model, instead, has the front side hand dyed with the typical orange color of Preston's creations. On the back side we can see a faded, distressed effect denim, open side seams secured by orange stitching and a back pocket with the flattened Levi's Red Tab. Both jeans are enriched by the Heron Preston special edition label, a bar with the Levi's Batwing tab logo on the outer side seam and a print (always orange) under the back patch.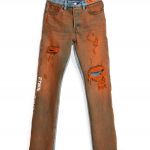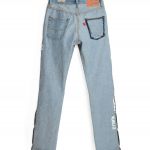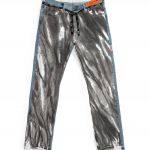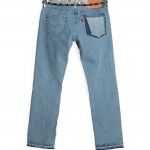 For the launch of the Levi's x Heron Preston 501 jean collection the two partners chose as testimonial Hailey Bieber, photographed by Matthew and Karla Welch of Meritocracy Inc.'s.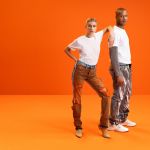 Only 501 pairs of these special jeans are now available in selected Levi's stores around the world.