The most sought after women's items in the first 2019 trimester
The list of the most desired products made by Lyst
Lyst - a leading online search engine within the fashion world - a few days ago launched Index, a new section of the site which collects and reports the most interesting data and researches made by more than 5 million users both online and in store for each trimester of the year. After the list of the most sought-after brands and the one about men's sneakers, the time has come to have a look at the most sought after women's products.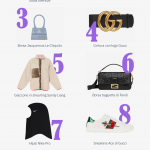 What strikes immediately is that when it comes to accessories, whether they're sneakers, bags or belts, women often opt for well-known luxury brands. When buying a sneaker men naturally tend to choose between Nike and Adidas, while the female audience prefers Gucci and Alexander McQueen silhouettes, the latter unexpectedly on top of the list with its chunky sneaker (undeniably similar to the Stan Smith). The only other shoe in the list is not a sneaker, but a Chloé white leather sandal.
Among the accessories, the one that stands out is definitely the padded headband by Prada, the hairpiece that from the runway has conquered street style, while the Gucci logo belt confirms itself as a timeless and classic item, and part of womens' closets for generations. Regarding handbags, we have on one hand the Fendi Baguette, a unique must-have since Sex and the City, and on the other Le Chiquito by Jacquemus, a piece reiterated in a number of different sizes, colours and leathers, the strong piece of the Maison founded by Simon Porte, who was able to turn the brand's success on social media into sales. In seventh place, we found the Nike Pro Hijab, which seals the success of the sportswear giant which intercepted a real need for Muslim women.
Finally, there are two quite surprising items in the list: the Sandy Liang shearling jacket and the Proenza Schouler tie-dye turtleneck. The first makes is rather more feminine and adds a luxury touch to a typical design of outerwear, while the latter is a unique take on the strong tie-dye trend, adapting it to the silhouette of a turtleneck.