Astroworld Italia: the new legal fake
Travis Scott's tour merch victim of copyright violations
A few days ago a LacedUp Community user posted a photo, taken in an Urban Jungle store, of a cap very similar to the one in Travis Scott's merchandise for "Astroworld - Wish You Were Here" tour, which dropped last November. On the community site, he wondered if and how it was possible that this merch was sold in a chain like Urban Jungle, throwing the first suspicions that it could be a new case of a legal fake.
Astroworld has appeared in the first medium-large Italian retailers, including BLACK BOX, which announced the distribution through a press release on its online site. Given the unlikelihood that this is official La Flame merchandising, we are in all probability faced with a new case of a legal fake brand, which joins the list of brands that are fighting legal battles to obtain exclusive rights and intellectual property of brands, which due to bureaucratic details cannot be subject to protection. We have been following the case of Supreme and Supreme Italia for some time now, just as we told you about the story of Fuct and its founder Erik Brunetti, and that of Boy London about 2 years ago and of KITH.
Because we are not talking about a real brand that's not being legally protected, we cannot speak of a counterfeit fake, but of a copy. A clever way of playing with the meaning of copyright, exploiting the limited nature of the collections as a mechanism to attract the attention of an audience dissatisfied with inaccessible drops and above all products that can be easily replicated with few resources.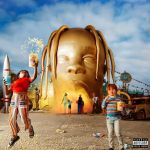 In August last year, during the album launch week, Travis released the collection by dividing it into 9 limited-edition drops, available online only for 24 hours or subsequently sold in temporary Pop Up stores, such as those in New York and Los Angeles this last March.
The LP, the third studio album for Travis, since its release last August 3rd has received 4 platinum records, accompanied by a collection consisting of 28 garments, created together with the creative director Corey Damon Black. The collection was complete, with tees, hoodies, crewnecks, stickers, and accessories of all kinds, with graphics recalling slogans such as "Out of this world", "Wish you were here" or "Thrills and chill". Prices ranged from 13 euros for the CD to almost 400 for the denim jacket, the most expensive item in the collection now resold on StockX at the same price, while some items in the collection have undergone a significant revaluation. Still, on the resell marketplace, the price of the jerseys has doubled compared to the €40 of retail, as well as for hoodies, which have reached over up €250 from a base of 80/100 euros.
It is easy to believe that Travis Scott did not register the name of his tour or even more likely that he does not have complete control over the rights of the name "Astroworld", as its an old amusement park in Houston - La Flame's hometown - abandoned in 2005 to give way for a series of new buildings.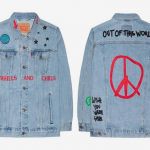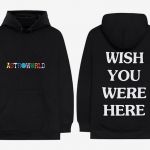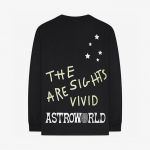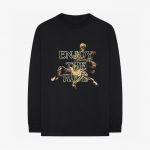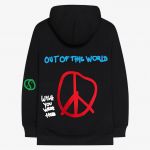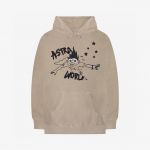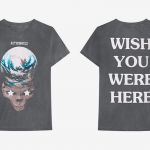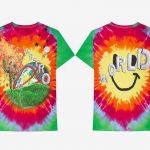 The item that raised a heated discussion on
LacedUp Community
is the snapback cap, sold at retail for $30 and now for StockX at around € 90. In addition to the shape of the hat and the colors of the clearly different embroideries, to maintain that it is a legal fake is explained by a few logical conclusions. First, on the label appears the indication that it is Made in Italy, a strange fact, even considering a possible concession by the
Cactus Jack
label of the production for a European tour, unlikely and never officially announced. An artist like Travis Scott, one of the most influential in the world, what economic or image interest would he have in producing merchandise in Italy? Convincing answers are not found and above all, it would not be possible to explain why the distribution was entrusted, without official announcements or events, to large retailers specialized in concessionary products of important brands such as Converse, Jordan, Nike, PUMA, adidas or Vans, but in any case second-tier. Not being a registered trademark above all, therefore, we cannot speak of infringement of intellectual property, but simply of copying, which relies on the doubts and the inexperience of the community, whose desires are met by retailers widely distributed in Italy, with almost 30 shops, as in the case of Urban Jungle.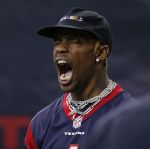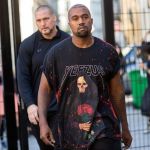 The limited and the strong demand for products also in Italy, in which La Flame has not set any tour date and in which he has probably not registered the brand, has led to the birth of a new legal fake phenomenon.
It is not the first time that a celebratory collection of a tour has been hit, in fact, it also happened for the Yeezus merch, Kanye West's 2013 tour. Even today, after almost six years, skeletons and sweatshirts with skeletons prints have been sold in small-medium retailers, which had helped launch the trend of rock band tees a few years ago.
Following the Supreme Italia model, Astroworld Italia hits the barren land of the limited editions, which leave expectations and demands unmet by the scarce quantities and the competitiveness in the race for the cop. Never having been seen physically ahead of the Astroworld collection has led, as in the case of Supreme, to believe in the mirage of the oasis represented by the legal fakes, which are inserted once the community has become familiar with the brands, recovering the vocabulary of symbols and values. The big luxury brands have faced this problem for a long time, even before Supreme Italia or Astroworld, for which the game of replication is even easier thanks to low-quality products, something impossible to do for a Hermes or Louis bag Vuitton.