The ultimate guide to the fashion Made in Berlin
#BerlinFashionWeek
Since the mid-1990s, Berlin has established itself as a European artistic and cultural capital, whose musical and artistic scene in many ways stood unrivaled by other capitals. After the fall of the wall, the economic situation meant the low rents of East Berlin attracted masses of young people from all over Europe who created the cultural hummus for the world's most lively clubbing and artistic scene. While it is true that Berlin has been recognized for over twenty years as a center of European street art, it is equally true that fashion has never found fertile ground for development there, in the ways it did in for example Paris or Milan.
A real paradox that unites Berlin with the rest of Germany, is that its still a victim of the stereotype that "the Germans dress badly" and do not understand anything about fashion, even if geographically surrounded by the colossus of haute couture and luxury.
Like every stereotype this is also true in the middle: Germany and Berlin in the last five years is moving more and more towards the "fashion system", thanks to the push brought on by social media, influencers and inspirations from the runways of NY, London, Milan, and Paris.
From July 3rd to 7th Berlin will host the Berlin Fashion Week, an event that has been promoting and launching labels from all over the world for years, with shows, presentations, exclusive parties that really put Berlin on the (fashion) map.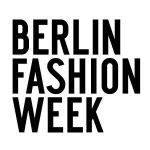 Of course we're not talking about a city like Paris, whose catwalks during the fashion week host brands like Chanel, MiuMiu or Maison Margiela. The German capital is gradually opening up to this reality, with events and collaborations, promoting its own idea of fashion: unlike the Italian scene, which is all about being artsy, unconventional, with a mix of different and often distant inspirations, German fashion is more about
tradition and timeless classics
. The man in a suit and tie that parades in Berlin is not comparable to the revolutionary man of Louis Vuitton but "never say never".
The stand out point of the Berlin scene is definitely the streetwear, which is gaining more and more importance, for its ability to speak a unique language, a visionaries' language, spreading trends day after day, runway after runway, IG post after IG post.
nss has created a special guide for all the inspirations and trends Made in Berlin. Discover them with us.
Best Shops
Sneakers N Stuff (Schonhauser Allee 6-7)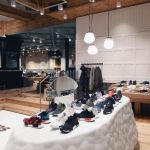 Large and well structured, this store's decor and interior design mix vintage details with a super minimal modern aesthetic. The wooden hardwood floor is opposed to the white furniture where the sneakers are displayed in a great variety. A winning mix&match that reflects the concept of the store: new and classic are the key to success.
Voo Store (Oranienstraße 24)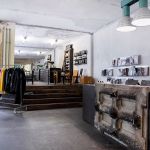 A garage style store: the tubes are at sight, the walls are ruined, the street and sneaker reality is showcased in its essence.
Wood Wood (Rochstraße 4)
A minimal aesthetic, a basic concept, that can boost the sale of exclusive capsule collections in super limited editions.
HHV (Grünberger STR. 54)
Records + vinyls + sneakers = perfect combo.
Overkill (Köpenicker Str. 195A)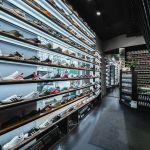 Just by looking at this store's doorknob - it's shaped like a Nike Air Max 90 - it's clear to what extent everything in this shop is a homage to the sneaker culture. Overkill is a real sneaker library, here you can find anything about them, even the tools to customize them, spray cans, colors and fashion details at every corner.
Best Brands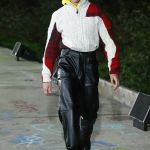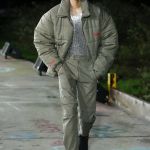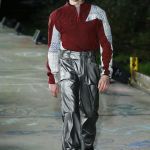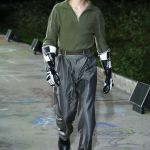 GmbH is definitely the most important and acclaimed German brand at the moment, created in 2016 by the collective group led by Serhat Isik, a Turkish-German designer, and Benjamin Alexander Huseby, a Norwegian-Pakistan photographer. The mix of different cultures and traditions is central to the essence of the brand, which contains different but balanced voices. Details, zippers, buckles, patterns, unique fabrics and oversize fit: this is GmbH.
Influencers
Protagonists also in the German capital, the influencers immediately wear the latest trends. Whether they're posers or fashion victims it doesn't really matter: they live day by day with this super fast world and are fundamental in the whole trend process too.
At the same time, German influencers do not find the same resonance as American or Italian ones, for a simple reason: music is more important than fashion. The clubbing scene dominates, everything revolves around it and while in Italy everyone dreams about followers, in Berlin the young generation dreams about playing in the cool clubs, breaking through as a DJ.
However, the sneakers and streetwear have stolen the hearts of some of these young people, here are some of the ones to keep an eye on.
Co-founder of the collective @allupinitt, his profile is filled with AJ pictures as well as urban shots that create eye illusions and sense of movement. His world is made of sneakers, from the super new adidas Originals Yung 1, to the Nike Vapormax.
Editorial shots, black and white vintage images, travels and everyday life details pictured with an appealing naturalness.
A well-refined profile with creative shots, @sizetenplease is a real sneakerhead Made in Berlin, who loves to personalize his posts with light and dark effects and shadows, opposed to the colorful tones of his Nike Air Max 1/97 Sean Wotherspoon.
Streetwear, streetwear, and streetwear. Blonde bomb and extravagant sunglasses, her style is a mix of bright colors and a bunch of tattoos. Real Girl Power.