The big text logo trend on sneakers
Fashions current logo and brand obsession is spreading to the feet
Within fashions current growing trend of a more and more logo orientated aesthetic, with a big text and logo resurgence being seen throughout almost all brands, its now trickling all the way down to the feet, with a trend of bigger and bigger text-based logos adorning shoes and sneakers.
Since the dawn of the sneaker, brand visibility has always been a big issue. Stripes, stars, and swooshes became as important visually as the brands behind them. The ebb and flow in size of these have grown and shrunk through the decades, starting with very large logos in the early days of sneaker history, onto the 80's where we saw them shrink and the actual design of the sneaker become more an indication of the brand than the actual logo at times.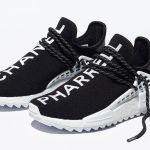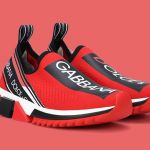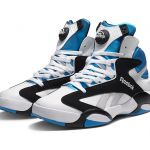 The first Air Jordan, Adidas campus, and Reebok tennis shoes, all became defined by their iconic silhouettes. In the 90's with more adventurous designs, and growing sub-genres within brands, we saw an increase in logo visibility as the silhouettes themselves didn't always give away who the designers were. Jumpman, Huarache and the Pump logos grew in their presence and soon became almost as iconic as the umbrella brands that spawned them. The big trend of a few years ago, of much sleeker and sock-like silhouettes saw more subtle branding, bordering on almost invisible at times, but with fashions currently growing logo obsession, now logos and text are back, literally in a big way!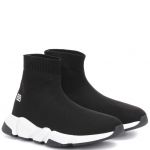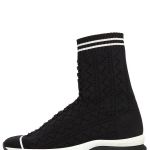 Brand visibility is gaining an ever-increasing interest for the consumer, especially as certain brands almost seem to be battling it out, with consumers choosing which team they want to be associated with. Balenciaga vs. Gucci, Off-White vs. Yeezy, and the age-old rumble of Nike vs. Adidas. The classic logo battles of the past, like the swoosh vs. the stripes simple, isn't heavy artillery enough, as from high-end to street style we're seeing sneakers adorned with ever larger text-based logos.
The influx of high-end brands entering the sneaker market has also meant a much larger range of choice for the consumer, brands need to "scream" louder to make sure they're seen. This along with the growing trend of the collaboration within sneaker culture has meant the collaborator has needed to find ways to clearly show its involvement. Often as these drops are quite limited, the consumer is leading the way in making sure people know they've been able to secure one of these rare gems and thus brands are turning up their brand and collaborator visibility from top to toe. As long as this logo focused trend continues, we can expect to see more and more sneakers following this big text brand trend.