Will Kanye West present YEEZY Season 6 during Paris Fashion Week?
An invitation to the show appeared online suggests so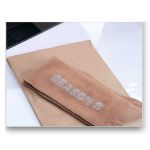 YEEZY Season 6's fashion show is shrouded in mystery.
At first everyone thought that Kanye West would have presented his SS18 collection on September 13 during NYFW, but then the event is blurred without any explanation.
So the next spring fashion weeks followed one after the other, New York, London, Milan, and Yeezy no trace.
Now is the turn of Paris, the last chance for Mr. West to take part in this group of fashion shows, and on the The Business of Fashion's Instagram profile, an image of a possible invitation has been posted.
It is a pair of beige socks with white writing "Season 6".
Is it a confirmation that we would see the new creations of Yeezy during the Paris Fashion Week? Maybe.
Once again the issue is controversial because if many believe it a certainty other says it won't happen.
Stay on nss to unravel this mystery.