Kendall Jenner is officially adidas Originals brand ambassador
Discover the whole announcement!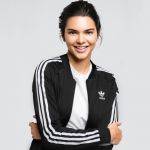 Kendall Jenner has just landed a contract with adidas Originals: she will be the new brand ambassador.
The 21-year-old has announced it on Instagram last night with a video of herself dressed in the brand's tracksuit while driving a golf cart in front of a mural with the words Welcome to the family! and the clover logo tracksuit.
In a press release, the company said:
"A longtime fan of the brand, Kendall embodies the spirit of Adidas Originals as a creative force shaping the world today by challenging the status quo in her very own way. A classic icon, Kendall is a true Original and we welcome her to our family".
Miss Jenner's love for the German brand begins at an early age, as evidenced by some online childhood shots, and is still ongoing. In fact, it is easy to find images of the girl while wearing sneakers and adidas garments.
Kim Kardashian's sister-in-law joins her co-workers and fashion friends, such as Gigi Hadid for Reebok, Bella Hadid for Nike, Cara Delevingne and Kylie Jenner for Puma and Karlie Kloss for adidas.