The return of Maison Margiela 10 Oversized T-Shirt
A classic archive piece now can eventually become part of your wardrobe
That the Maison founded by Martin Margiela in 1988 has never stopped revolutionizing itself and its models is not a surprise to anyone. However, what should surprise you - and leave you speechless - it's the chance to finally buy a classic archive piece of Maison Margiela: the oversized T-shirt of line 10 now revived with new unexpected details.
The minimalist design that distinguishes the MM style is maintained through the use of classic lines and high-quality material, the only difference? A REPLICA patch positioned on the back of the garment to emphasize its origins and describe its characteristics.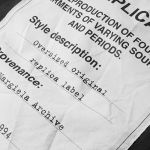 Made entirely in Italy and in 100% pure cotton, it can now be purchased at END for $ 305 in black or off-white.