10 movies to get you in the mood for Halloween
From Crimson Peak to Suspiria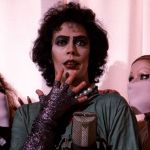 October.Halloween is almost here. The weather outside is bad. An excellent opportunity to lay on the couch, put a blanket, turn the lights down and watch a movie, one to get us into the right Halloween mood. Ok, there are too many. Don't panic.
nss is here to help you with the perfect movies to create the atmosphere more than any carved pumpkin could do.
Warning: you won't find the most frightening, bloody and horrific films, nor the greatest masterpieces of cinema – or at least, not just them –, but those that one would like to see during this period. Even those titles that we secretly love because they're not exactly cool.
Here are our top 10 movies to see to get ready for Halloween (in strict chronological order):
#1 Crimson Peak (2015)
Jane Eyre meets Hammer filmography and Rebecca, Guy de Maupassant meets Mary Shelley.
This work starring Mia Wasikowska, Jessica Chastain and Tom Hiddleston by Guillermo Del Toro, the Mexican director who already directed the interesting El Laberinto del Fauno, is a little gem.
Everything emanates beauty: the history, the costumes designed by Kate Hawley, and the set, a Gothic mansion in the English hills inspired by Edward Hopper's The House by the Railroad.
The plot? Edith Cushing, an aspiring young writer falls in love with Sir Thomas Sharpe, a gentleman who's looking for funds for a crimson red clay mining machine. Once married, the couple moved to the man's house in Cumbria. Here Edith will have to live with his mysterious sister Lucille, in a haunted house.
#2 The Conjuring (2013)
1971. The true story of Ed and Lorraine Warren (Patrick Wilson and Vera Farmiga), the world-famous paranormal investigators called to help the Perron family terrorized by a dark presence in an isolated Rhode Island farm.
The Conjuring, directed by James Wan, who also worked on Saw and Insidious, is an enjoyable classic horror that keeps you glued to the screen with its suspense and makes even the most impressionable viewers wanting to cover their eyes when the scenes are too obscure.
In the role of the mother, stars Lili Taylor, the heroine of 90s indie films, as in The Addiction, the beautiful vampire movie by Abel Ferrara, and who has recently starred in the tv series Hemlock Grove.
#3 Constantine (2005)
Angels vs Demons. And Keanu Reeves.
Beautiful and ironic with his dry recitation, the actor turns into John Constantine, anti-hero and occult detective based on Vertigo Comics' Hellblazer comic book.
With apocalyptic images and ironic dialogues, the 2005 movie directed by Francis Lawrence paints a world crushed by the struggle between good and evil, between angels and demons, that divide the souls by playing with humans and influencing their actions.
Also starring Rachel Weisz, Shia LaBeouf, Tilda Swinton and Gavin Rossdale, Gwen Stefani's ex-husband and Bush's leader.
Like Sleepy Hollow, Constantine also has a homonymous tv series version, which was canceled after the first season.
#4 Donnie Darko (2001)
80s. Donnie Darko, a troubled teenager who suffers from sleepwalking (played by Jake Gyllenhaal), one night is awakened and led outside by a disturbing rabbit, six feet tall, who saves him from a plane crashed into his house and reveals the end of the world is coming.
Thus a complex and surreal story begins, suspended between noir and dream and emphasized by the perfect symbiosis between narration and soundtrack, which includes beautiful songs like The Killing Moon by Echo and the Bunnymen and Tears for Fears' Mad World cover by Gary Jules.
The story of Donnie Darko, which had a sequel titled S. Darko, from its debut has seen numerous interpretations and theories. The original version? Richard Kelly, who directed the film when he was just 26 years old, has explained in the Director's Cut that at its base there is a book written by Roberta Sparrow, The philosophy of Time Travel. The fictional work, probably invented by the same Kelly to give a scientific explanation to the film, is loosely based on the theories of Stephen Hawking, in which he describes how time can be corrupted resulting in parallel realities, called "Tangent Universe".
#5 The Others (2001)
The Others is a little must-see masterpiece.
This old fashioned psychological horror directed by Alejandro Amen·bar is all played on whispers, squeaks, hints, subtexts, no special effects, no blood. The not-seen, the not-shown, the vacuum it's the scary element.
1945 England: Isle of Jersey. Grace (Nicole Kidman) has just moved into an old house where she lives with two children and three servants. Her husband, disappeared in war, is probably dead and her children are photosensitive, doomed to a life away from light and oppressed by their obsessive and rigid mother.
At a certain point, her daughter says she had seen strangers in the house and when Grace began to believe her and starts to hear strange noises...
#6 Sleepy Hollow (1999)
Johnny Depp when he was the true Johnny Depp.
Before Amber Heard, before becoming fat and before getting lost in a stupor made of bad personal choices, gossip and not exactly memorable movies.
Inspired by The Legend of Sleepy Hollow by Washington Irving, Tim Burton tells the story of detective Ichabod Crane (Depp), set in New York in 1799, sent into Sleepy Hollow village to solve a series of crimes, who will discover love and will fight against the terrible Headless Horseman.
It may not be the best performance by the handsome Johnny, who is said to have never seen the film since he wasn't satisfied by it, but it embodies the black fairy tale, seasoned with macabre flavors and humor, perfect, like almost all Burton's works, for the Halloween period.
If you are a fan of Sleepy Hollow try to watch the eponymous Fox tv series.
#7 Practical Magic (1998)
More than a movie about the supernatural, a movie about sisterhood.
Sandra Bullock and Nicole Kidman are Sally and Gillian Owens, descendants of a long line of witches victims a curse: anyone falls in love with them is destined to die.
The girls, grown by their aunts, perfectly interpreted by Stockard Channing and Dianne Wiest, are very different, one shy and serious, the other rebellious and uninhibited, but united by a deep bond that will help Sally to save Gillian from her serial killer ex-boyfriend.
Perhaps Practical Magic will never be an important name in cinema history, but it remains an underground cult and an essay on 90s' style and aesthetics.
#8 Suspiria (1977)
Suspiria, a 1977 masterpiece (in 2017 it will turn forty), directed by Dario Argento, and based on the novel Suspiria de Profundis by Thomas de Quincey, is a visual and visionary feast made with meticulous care that pays homage to Escher and Kokoschka, but also to Walt Disney Snow White.
It's a black fairy tale in Technicolor set in a famous European ballet school where protagonist Susy Benner, a young American student, lives between witchcraft, curses and promises of immortality.
This movie, which together with Inferno and The Third Mother made up the so-called "Trilogy of Mothers", is full of hidden details. For example, for a moment it is framed a bloodstain that has the shape of a witch.
In the last period, Suspiria is the focus of a series of controversies between Luca Guadagnino realized a remake starring Dakota Johnson and Dario and Asia Argento who didn't like the project.
#9 Carrie (1976)
Carrie is a true classic.
Directed by Brian De Palma with Sissy Spacek and based on a novel by Stephen King (first published), the film tells the story of a shy and awkward teenager who is in her last year of high school, heavily mocked by classmates and suffocated by her Christian fundamentalist mother. One day she discovers she has supernatural powers and meditates revenge.
Tension, complaint, rebellion, bullying and loneliness, all in 98 minutes.
Some curiosities? Melanie Griffith, Linda Blair and Farrah Fawcett had auditioned for the role of Carrie. De Palma chose Sissy Spacek, after her husband Jack Fish, art director of the project, convinced the director to test her. For the occasion, Spacek showed up with hair sprinkled with Vaseline, wearing a sailor dress that her mother had sewn when she was in seventh grade.
In 2013, Kimberly Peirce realized a Carrie remake featuring Chloé Moretz and Julianne Moore.
#10 The Rocky Horror Picture Show (1975)
On October 20, Fox presented the TV remake of The Rocky Horror Picture Show with Laverne Cox from Orange Is The New Black in the role of Frank-N-Furter, but the most popular version will always be the one realized in 1975.
But where did the story of its success began?
In 1973, Richard O' Brien, an unknown English actor, wrote the script for a musical in which he combined his passions for rock'n'roll and horror movies. Together with his friend and director Jim Sharman, he offered the Royal Court Theater the story of two boring sweethearts who, on a rainy night, arrive in a castle populated by bizarre characters.
The play had such great success to get a film version, which unexpectedly was a total failure.
The Rocky Horror Picture Show's fame is due to the "midnight screenings" in cinemas where legions of fans filled the rooms, singing along all the songs, and often dressing up as Riff Raff and companions.