"Naruto Shinden" will have an anime Spin-Off
An anime adaptation of the famous manga is coming soon
In his latest issue, Weekly Shonen Jump, the iconic manga magazine, has revealed that "Naruto Shinden" (The New Legend of Naruto) will have an anime adaptation.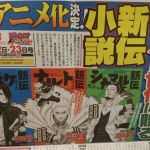 The plot develops fifteen years after the end of the Fourth World War of Shinobi, like the Boruto storyline, focusing mainly on Naruto, Sasuke and Shikamaru adults.
Written by Mirei Miyamoto, Jun Esaka and Takashi Yano, the series was created in close collaboration with the creator of Naruto, Masashi Kishimoto, who also designed all the illustrations in the books.
Naruto Shinden (The New Legend of Naruto) will premiere on February 10th.