Why everybody is obsessed with Mid90s by Jonah Hill
His directorial debut is a love letter to skate culture
From overweight and akward boy, protagonist of R-rated comedies, to screenwriter and director praised from the critics. Jonah Hill is a brand new person.
After a dramatic weight loss, after having become a fashion icon (with Palace first, with adidas now), and a Netflix series (Maniac, along with Emma Stone), Jonah Hill is ready to make his debut as a director and screenwriter of the movie Mid90s. In the last four years Hill has been dedicating body and soul to this film, partially based on episodes dating back to his teenage years. As Jonah himself wrote in the preface of his magazine A24, "I became famous in my late teens and then spent most of my adult life listening to people say that I was fat and gross and unattractive. It's only in the last four years, writing and directing my movie Mid90s, that I've started to understand how much that hurt and got into my head." For his directorial debut, Hill waited until he found a story that felt particularly close to him and to his experiences, following the lessons of directors such as Barry Levinson and Mike Nichols, who went from being comedy actors to filmmakers choosing as their first movie a story to them very important and heartfelt.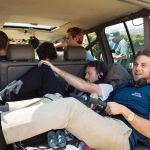 The story is set in Los Angeles in 1995, and it follows the adventure (and disadventures) of Stevie, a 13-year-old dealing with a very complicated family situation, especially because of the disfunctional relationship with his brother Ian, that pushes Stevie to seek shelter and friendship in a group of skaters, who very soon become his family. The search for identity, the need to belong to a specific group and to create real connections, which represent a kind of escape from a difficult family, are just a few of the topics dealt with in the movie.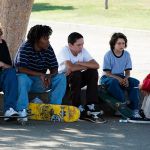 Many journalists and critics wrote that the film looks a lot like a documentary, mainly because of Hill's cinematography, the script and the very raw language, but above all because of the cast. Sunny Suljic, who plays the main lead Stevie, is just 13 years old (he was 11 when they shot the film, which makes his performance even more incredible), had already played in well-received movies, but what's more important he actually knows how to skate. The other pro actor is Lucas Hedges, who plays his brother Ian, previously seen in many award-winning pictures (Manchester By The Sea, Lady Bird and Three Billboards Outside Ebbing, Missouri). The rest of the cast is made of non-professional actors: the kids who Stevie become friends with are actual skaters, discovered on the streets of Los Angeles, who decided to adventure into this new experience, very often improvising their lines. This is exactly why the movie feels so real, all the skate scenes (they're a leitmotif throughout the film) are real, there are no stunt doubles or special effects, those are real kids doing those spectacular and sometimes dangerous tricks.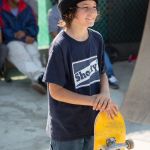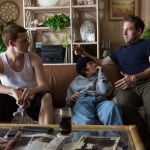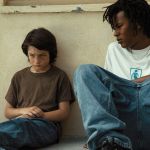 The skate culture has often been portrayed and abused not only in the movie industry, but especially in the fashion world and in the press in general, and Hill was very aware of it. The American actor, in fact, declared that the film is a love letter to this sport, which has played a big role in his life: Hill used to work in a skateboarding shop as a teenager and even though he was a terrible skater, he wouldn't give up on his passion, always led from that need of belonging to a group to feel less lonely. His main goal was to represent in the most truthful and respectful way this reality, starting from the love he feels towards this sport. Many have compared Mid90s to the classic Larry Clark directed film, Kids, which followed the lives of young skaters of Washington Square Park, New York, and which later became Supreme New York manifesto. What distingueshes this movie from Hill's work are the feelings: Mid90s is more interested in the personal connections between the skaters, in the fights and in the honest conversations, and culminates with a ray of hope for Stevie and his friends.
What makes Mid90s even more interesting is that 90's asthetics so perfectly portrayed by Hill. The credit goes to the costum designer Heidi Bivens who did a long research in vintage shops and former skaters closets, bringing back old brands such as Menace and Kools, labels that Californian skaters would truly wear in the late 90s, as well as Hill himself, choosing and mixing them specifically for each character. The style of the protagonists is made of oversized silhouettes, baggy jeans and printed T-shirts.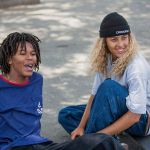 Jonah Hill's elegant and nostalgic love letter to skate culture hits American theaters October 26.