The Story of Lil Uzi Vert
From the rise to the controversies we tell the trap tale
Something that is so interesting about contemporary hip-hop and trap, is that within its rather rigged frames of definition, every once in a while a persona comes along that breaks all those rules while pushing the whole genre forward to new grounds. A rapper that's a great example of this at the moment is very much Lil Uzi Vert who veers away from the trap playbook to embrace wonky electronics, arpeggiated samples and to cross the boundaries within both fashion and gender roles.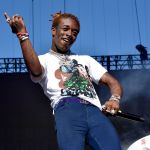 Early Inspirations
Born Symere Woods July 31st, 1994, in North Philadelphia's Francisville neighbourhood, his early musical influences were very much a pull in two directions. Taking rap inspiration from the likes of Wiz Khalifa and Meek Mill, who would come to influence his future style. But also from more alternative rock acts such as Marilyn Manson, Paramore, and My Chemical Romance, would play a vital role in his own artistic persona. Starting to rap in the 10th grade after hearing a classmate, William Aston freestyle. Woods and Aston went on to form the rap group, Steaktown, which broke up when Woods was 17. He then decided to drop out of school and started working at the American soft-discount grocery chain, Bottom Dollar Food, but managed to get let go after just 4 days which subsequently led him to get kicked out of his house by his mother. Not even legally an adult Lil Uzi found himself out of school, out of a job, and out of a home. The whole situation led to him getting the first of his now iconic tattoos on his face in the form of the word 'Faith' just under the hairline and started to take the prospects of his rap career more seriously.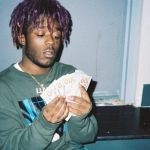 The Rise
He started rapping under the name 'Vert' which he himself says stands for 'vertical' meaning his ambition to move upwards. He later changed it to Lil Uzi Vert because of the way someone described his rap flow, saying his flow was "Fast, like a machine gun." He dropped his first ep in 2014 entitled Purple Thoughtz Vol. 1, his signature cloud rap psychedelic sound was set from the start and with a strong lyrical focus it caught the attention of the aesthetically like-minded ASAP Mob. Between 2014-2017 a string of various collabs and hot productions with the likes of ASAP Ferg, Wiz Khalifa, Metro Boomin and Kodak Black initiated his climb up to mainstream stardom. Things really took off when he collaborated with the rap group Migos in October 2016 on the single "Bad and Boujee" which in January 2017 reached number 1 on the US Billboard and became a worldwide hit.
A pinnacle moment was reached with the release of the huge hit "XO Tour Lif3" which caught a wide resonance due to its open-hearted lyrics concerning depression and suicide plus the fact the Virgil Abloh and Off-White Films directed and produced the video for the track just as Virgil was entering truly stratospheric levels of hype. On youtube alone, the track currently stands with more than 331 million views and counting. A string of personal tragedies then started altering the path of Lil Uzi Vert. After the death of Lil Peep in 2017, Vert announced he was quitting drugs and attempting sobriety. Not long after, friend and fellow rapper XXXTentacion was shot dead in Florida. In early 2019 Lil Uzi Vert announced he was quitting the music business after disputes with his label which was greeted with wide meet disappointment from fans. Luckily it didn't take too long before the decision was rescinded.
Controversies
Like most rappers, Lil Uzi Vert has been followed around by his share controversies though in his case it's centred around something rather unusual, even for rap music. He's been accused of being a worshipper of Satan, originally by battle rapper Daylyt. The accusation was then backed up by his own stated influence from Marilyn Manson who's sighted Satan as his biggest inspiration. Also instances of telling crowds of fans that they were "going to hell" with him, adding satanic imagery to his social media accounts, and saying phrases often associated with Satanism such as 666 have spurred these rumours on. He's often promoted Satanism on his social media, which even went as far as to warrant his Instagram access being taken away from him by his record label. Lil Uzi Vert has himself never confirmed the accusations.