Why more men than ever are buying make-up
We asked a make-up artist and a beauty influencer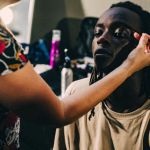 While the debates on toxic masculinity and the limits of male vanity are subsiding, the demand for men's make-up products is booming. Among supporters of the use of "masculine" make-up and face tints reigns the argument: they used it in Ancient Rome and Egypt centuries ago, why can't we wear it now? A coherent reasoning, one might say, but one that relegates men's make-up to an unfashionable, old tradition, when its spokesmen are more modern than ever. According to a study research run by Grand View Research, the global market for men's beauty products amounted to over $30 billion in 2021, with an expected annual growth rate of 9.1% until 2030 (in Asia, 9.4 per cent). The site pointed out that the current increase in demand for men's personal care products is the result of an increased focus on appearance by young men, who are increasingly concerned about how this affects their chances of social and professional success. Magazines like GQ have been sponsoring beauty products for years, and trend forecasting expert WGSN predicts that «the normalisation of men's make-up will have steady growth through 2024.» If in the golden years of YouTube we were accustomed to the eccentric and original looks of the likes of James Charles and Jeffrey Star, modern social media is witnessing the rise of influencers promoting make-up that enhances their own natural beauty.
The use of men's make-up has mainly been destigmatised in queer culture and online, with a few exceptions - it was way back in 2010 when Vogue reported on Johnny Depp's "guyliner". In America and Europe, the success of k-pop stars made men discover a new way of taking care of themselves, introducing to western culture the appeal of a toned-down use of eyeshadows and illuminants, as well as the importance of the right skincare to look your best. But the use of beauty products by celebrities has been polarising for years, suggesting how facial products, when used by a straight man, are only acceptable if discreet: while the make-up and nail polish collections of artists such as Harry Styles, Machine Gun Kelly, Lil Yachty, Fedez and Achille Lauro have always caused a stir, the skincare brands founded by Pharrell Williams, Brad Pitt and Jared Leto have received almost tacit approval.
On social media, the stereotypical accommodation of straight men is summarised in three "red flags": the lack of a headboard and bed frame, an old towel that has never been washed, and the infamous 5-in-1 shower gel, but market analysis reveals that although the standard of male beauty - from the point of view of straight men - is that of a virile and essentially "rough" figure, the importance society places on an evidently healthy physique has led many men - including those who want to appear anything but vain - to revise their values in favour of aesthetics. It is certainly no coincidence, in fact, that the best-selling men's beauty brand in the UK is called "War Paint," indeed confirmation that men only like make-up if it has a name that evokes a traditionally macho feel, and thus justifies all the Brutos of the world over investing in creams, tints and other frivolities.
According to James DeMoss, senior make-up artist for NARS Cosmetics and educator, the credit for liberating men's make-up from antiquated preconceptions falls to TikTok. «Many men, regardless of orientation, are realising that make-up doesn't have to be full coverage or applied in a way that softens their features,» explains DeMoss, «but can be used to even out and enhance their skin, oftentimes without even being noticed,» revealing that working with NARS he has been noticing a big shift taking shape in the beauty industry, increasingly witnessing a great demand from men who «want to apply make-up in an undetectable way.» On TikTok, the situation is very similar, as Luke Corbett, a make-up and skincare enthusiast and influencer who often converses with what he calls «silent observers,» namely heterosexual men who follow him and his content with curiosity but only ask for information in private. «I always offer words of encouragement to destigmatise this process. It's OK if you want to use a little concealer on your face!» As one might expect. Corbett's work on TikTok receives a variety of hate comments, but as he points out, these are always fewer than those in support of him. «95% of my comments and posts are extremely positive, which is very important.»
For DeMoss and Corbett, the road to complete liberation from the social stigmas that portray make-up for men in a negative light is still a long one, but not an impassable one. «If history has taught me anything, it's that there will always be a form of resistance to any social change,» Corbett explains, «I think large strides have been made, I look forward to providing more content that destigmatises men who wear make-up or take care of their skin or body.» Change, according to DeMoss, is already underway, and its standard-bearers are younger generations. «The new generation of men is less interested in the social constructs of traditional masculinity,» DeMoss adds, «they are embracing the idea that make-up is really gender neutral.»