The 5 best Easter Eggs seen in the latest fashion shows
Did you recognize all of them?
Beyond the appearances of luxury and the construction of clothes, fashion is a system of constructing meanings. These meanings can change depending on the designer, but more importantly, within a collection, a designer can insert hidden details, surprises, and references that are only noticed by taking a second and deeper look. Today, the fashion world is perhaps less subtle than it was in the 1990s - nevertheless, we thought we would collect the best Easter Eggs seen in last season's fashion shows to show how often, behind a simple dress or accessory, unthinkable inspirations and references can be hidden.
1. Bottega Veneta's bag with the Ministry of Culture logo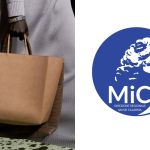 For Mathieu Blazy, embracing Bottega Veneta's Italian heritage means not only employing the Vicenza artisans who have been working in the brand's factories for decades but creating an affectionate portrait of the reality around him. From the curved cut of the suits reminiscent of Boccioni's sculptures to the handle of the Sardine Bag remaking Brancusi's Maiastra, there is no shortage of peregrine citations to Italian heritage. The strangest, because it was more institutional than the others, was the leather bag, illusionistically similar to an ordinary paper bag, printed with the logos of the Ministry of Culture and the National Gallery of Cosenza.
2. LGN Louis-Gabriel Nouchi references American Psycho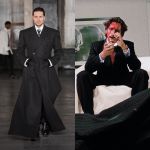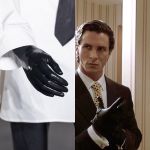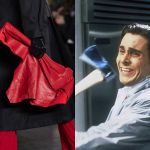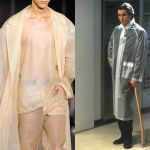 In LGN Louis-Gabriel Nouchi's FW23 show, references to American Psycho were everywhere starting with the collection's opening look: a semi-faithful reproduction of one of the most famous images from the film starring Christian Bale that includes a double-breasted coat, shirt, and tie, hair slicked back, and a face smeared with blood. In addition to the blood, which also recurred in other total red looks inspired by the book's final chapters, other models had their faces smeared with what appeared to be face cream-referencing the famous incipits of the film and the book which Patrick Bateman describes in painstaking and disturbing detail the many steps of his morning skin routine. Other references were the axes and chainsaws sealed in leather.
3. Prada's capes that recalled the uniforms of 1940s nurses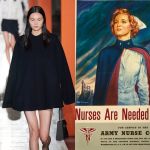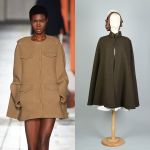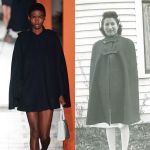 Brides, military personnel, and nurses were Miuccia Prada and Raf Simons' sources of inspiration for Prada's FW23 collection. The collection was an ode to everyday, to the gestures of care and thoughtfulness that enhance the little things - and so the clothes were, in true Prad-esque fashion, simple, measured, untheatrical. As noted by Vogue, then, there was a trio of capes that, with appropriate differences, echoed the uniforms of army nurses in World War II. Granted, that type of cape was quite common at the time, but it is an example of a vintage utilitarian design that surely must have fascinated Miuccia and Raf.
4. Kurt Cobain's sweater re-made at Valentino and Heavn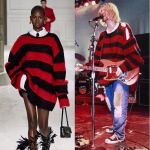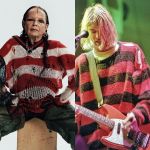 Just under 30 years after his tragic end, Kurt Cobain continues to be an endless fashion inspiration. Although it returns with some recurrence, Cobain's oft-worn red-and-black striped sweater appeared in two different collections this year: the Black Tie by Valentino and then in the recent HEAVN by Marc Jacobs lookbook, worn by none other than Michele Lamy in a red-and-white, V-neck version.
5. Undercover embroiders on clothes an old Dracula book cover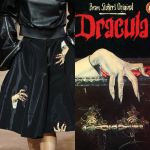 Everywhere in Undercover's latest Paris show, and not only on the suits but also on the tulip skirts that appeared at the end of the show, appeared embroidered hands that the rest of the press called «evil witch hands» and «Grinch-like» but which represent the most esoteric of references to the cover of a 1979 edition of Dracula published by Penguin Books-a reference so peregrine and seemingly random that it gives the measure of how cultured and chaotic at once Undercover manages to be, to how familiar but different his clothes manage to be from any of his kind.