Inside Pangaia's post-pandemic life
After success in 2020, the brand devoted to sustainability is called upon to reinvent itself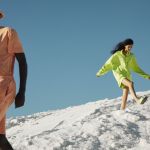 It's been almost three years since a global pandemic trapped us in our homes for more than a year, forcing us to rethink not only our lives overnight but also our clothes. Shoes were replaced with a pair of slippers, but most importantly, our everyday outfits became as comfortable as we could find in our closets at home. "Sweatpants Forever" was the headline of the New York Times in August 2020, celebrating the comfort of one of the garments that have most shaped the lives of thousands of people in quarantine, against every rule or prediction of trend researchers. PANGAIA's success is closely tied to this moment in history, most notably a widespread presence on our social feeds, part of the home outfits of celebrities and influencers to sales of $75 million in 2020.
Today, as our lives seem to have returned to normal, the brand has adapted to the times, expanding its offering far beyond the simple colorful hoodie and opening up to a range of products from tailored suits to trench coats, all characterized by the ubiquitous lettering that accompanies each garment. «The pandemic definitely acted as a catalyst for a lot of things,» PANGAIA Collective told us when talking about the brand's success during the pandemic period. They described being able to «sensitize people to the urgency of the geopolitical situation» and get them to «make a big change in behavior and buying habits». Today, the brand can count on a following that is reflected in the more than 66 million views of the hashtag #pangaia on TikTok, as well as the presence of the 365 Signature Hoodie among the most coveted items according to the Lyst Index Q1 2022. A demand that also underpins the second life of the brand, which is focusing on diversifying its offer due to its great success.
«Over the past year, we have been testing new products with our community, but our goal is to develop products for a specific purpose, not for a single season,» comments the company, which has grown from 10 to 125 employees over the course of just under a year after launching its first products at Complexcon 2018. Having secured the loyalty of its community, PANGAIA was able to focus on its real goal - not sustainability as an empty word, but science.«PANGAIA focuses on the science, not the hype around sustainability,» says the brand, which seems to be more of a technology company than a real brand with commercial ambitions.
«We share our material innovations and impact projects with many industries to encourage the adoption of more responsible production and consumption on a global scale,» says PANGAIA, whose challenge is not only to try to change an entire industry's attitude to sustainability but also to build on the success the brand had three years ago when the collective hysteria around its hoodies was over. With its unexpected growth in a short period of time, PANGAIA is now faced with the task of convincing its buyers that the same company that became famous for its household goods can now do the same with a denim jacket made from textile waste.