What will happen to sneakers now that the hype is over?
A category in crisis but one that no one can do without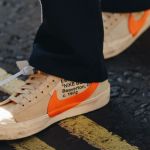 What happens when the public falls out of love with a certain product but, by necessity, continues to buy it? This is the riddle that sneaker market potentates find themselves forced to solve these days: on the one hand, the relevance (and dominance) of sneakers in the market is beginning to fade, overwhelmed by the spread of moccasins, slip-ons and clogs of various types; on the other hand, according to a recent report by BoF Insights, sneakers themselves account for about 55 percent of luxury brands' footwear assortments, ranking as a must-have category. According to BoF, which derives its data from Euromonitor, «global sneaker sales totalled $152.4 billion in 2022 reflecting a 2.7 percent increase in sales from the year before but a dramatic slowdown compared with the 19.5 percent spike in 2021. Now through 2027, the category is projected to grow at an annual average rate of 3.6 percent». The main culprits of this slowdown, in addition to the turn of history and the cyclical nature of trends, are certainly the supply and inventory problems suffered by brands large and small in the long wave of the pandemic, the fluctuations of a Chinese market that is increasingly nationalistic and inclined to invest in indigenous brands, and the fatigue of a public that, for years, has witnessed drops so continuous and intense that they are practically daily. The sneaker resell is also in trouble - a crisis confirmed by the downward spiral in which StockX, once the shiniest new gem birthed by sneaker culture, seems to have become enmeshed. And today, with rappers having become designers, the industry's most lucrative collaborations (Kanye's and Kyrie's with adidas and Nike respectively) entirely sunk, the market's future looks as ambiguous as ever.
While the blow that adidas had to self-inflict by breaking ties with Kanye West was devastating but necessary, the German brand can count both on the confidence that the new CEO, Bjørn Gulden, inspires in the markets and on the success (which seems already assured) of the collaboration with Jerry Lorenzo on the Fear of God Athletics brand coming later this year. After a downturn due to several factors, including production problems, the SNKRS app's identity crisis that created a deep distrust among the public, and excessive merchandise inventories that forced the brand to spend even more on marketing, instead, Nike ended the year on a positive note. According to data from Bloomberg infatti «global revenue rose 17% to $13.3 billion in the quarter ended Nov. 30, about $700 million more than analysts had projected. Gross margin, a key gauge of profitability, also exceeded expectations, and executives said year-end performance was strong». Yet this recovery will not be easy or immediate: on the one hand, brands such as On, Mizuno, Asics, Solomon, and New Balance are gaining larger and larger portions of the market while on the other hand, sneakers and collaborations are less sought after and sellable than in the past.
My biggest issue with sneaker culture is how people are only buying what's popular not what they like.

I get more attention wearing what people aren't familiar with than wearing what everyone got on the SNKRS app

Look around. Check other brand. Set trends don't follow them.

— Castane Arias (@CastaneArias) December 29, 2022
Faced with this data, perhaps, in 2023, brands will adopt new strategies. Already, with the Nike General Purpose Shoes signed by Tom Sachs and its rapid restock, the Beaverton-based brand has partially abandoned the idea of scarcity fueling sales; while the models that have kept adidas afloat are not the latest designer collaborations but classic silhouettes like the Samba or Stan Smith. From a statistical point of view, in any case, the sneaker category is the one that withstands recessions the best - like them or not audiences of all ages continue to buy them for the simple fact that they serve a purpose, they are part of the daily lives of billions of people around the world. Certainly brands large and small will have to figure out how to solve the sales contradiction: among the most likely are a gradual decrease in collaborations, a simplification of offerings, and a greater investment in classic models with assured sales. We are far from the days when the Travis Scott on duty only needed to snap his fingers to sell out hundreds of thousands of pairs in less than an hour-a more controlled sneaker market, perhaps, is one that survives.