How to replicate the style of your favorite anime character
The items you need are all available at Zalando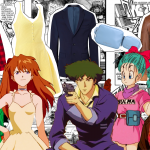 Fashion and anime, as well as any imagery that can find a connection with clothes, have created legendary characters who have also remained imprinted in the minds of fans for a personal or recognizable style. Just as, previously, we reconstructed the looks of some of cinema's most famous villains, this time we have created a styling guide to guide you in your goal of replicating the style of your favorite anime characters together with 90animefashion. From Bulma's sporty chic attire to Spike's formalwear to Usagi's kitschy vibe, we have selected items from Zalando's store for 6 characters from different anime.
Bulma
An emblematic character of the entire Dragon Ball saga, Bulma is the embodiment of a new nerdy now edgy femininity with forays into the realm of glamour as well. Her uniform, however, draws from the world of sportswear and functionalism: a fanny pack in which to put everything, a soft-hued dress, a tight belt at the waist and a pair of sneakers are the must-haves. Inevitable, then, is the bleached hair accessory.
Yusuke
Yusuke Urameshi is the contradictory protagonist of Yu of the Spectres. His outfit combines straight, dry cuts with bright hues. You need a light green jacket, a mustard sweater, a plaid shirt, low-top sneakers, and a pair of dark glasses. It's up to you how much you modulate the bad-boy vibe.
Asuka
Asuka Sōryū Langley is a character from the anime television series Neon Genesis Evangelion, produced by Gainax studio and directed by Hideaki Anno, and the manga of the same name written and illustrated by Yoshiyuki Sadamoto. Asuka's character has enjoyed widespread popularity among audiences and animation enthusiasts, placing her at the top of popularity polls and proving divisive: some have blamed her excessive arrogance, and those, on the other hand, who have appreciated her psychological introspection. To replicate his style you will need ballet flat shoes, a dress, and hair accessories.
Spike
Spike Spiegel is the protagonist of the anime Cowboy Bebop by author Shinichirō Watanabe. He is a member of the Bebop crew, and like his companions, he is a bounty hunter. He is twenty-seven years old and has a criminal background in the Red Dragon Crime Syndicate, which he later left by faking his death. His style is the epitome of elegance and formalwear: blazer, pants, tie, and leather boots.
Kintaro
Kintaro Oe is the protagonist of the anime Golden Boy. He is a 25-year-old boy who dropped out of law school at the University of Tokyo prematurely because he had already learned everything the university could teach him. So he decided to embark on a journey to his home country, working a variety of jobs to support himself. You will need a sheepskin, a cap, and a pair of cigarette jeans.
Usagi
Sailor Moon, whose real name is Usagi Tsukino, is a fictional character, the protagonist of the Sailor Moon manga series and anime of the same name, and the first to appear in both versions of the story. A denim jacket, pink pleated skirt, white lace-up shoes, and hair accessories are all you need to accessorize her style.