The 5 best moments of Milan Fashion Week
From JW Anderson's debut in Milan to the D&G-branded archive
Milan Men's Fashion Week has now come to an end and brought a number of trends to take note of as soon as possible. The SS23 collections presented by fashion brands have further defined the directions of menswear: long considered as the least interesting part of the fashion system, it is actually carving out an expressive space that has finally freed it from stereotypes and old patterns in conceiving men's fashion design.
Beyond more or less successful collections or more or less effective narratives, Milan Fashion Week nonetheless registered a remarkable involvement. Between the deconstruction of denim, JW Anderson's first show in Milan, nude looks and uniforms to be rewritten, we have selected five trends to be inspired by.
Versace's gold hair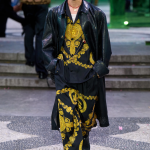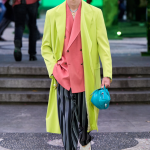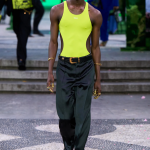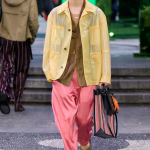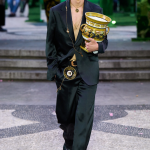 The SS23 collection is a riot of colors, bold looks, and cut outs: everything alludes to an optimism that finds maximalism as the key to showcasing the brand's aesthetic marked by the medusa logo. And just like the mythological character known for having "snake" hair, Versace's hairstyles also focused on golden, perfectly shaped styling in snake-like waves. Paired with softer palette or baroque print looks, the gold hair style is a true extension of Versace's branding.
JW Anderson's debut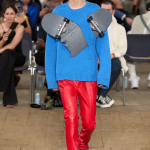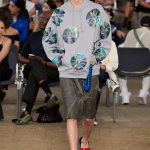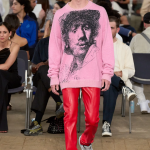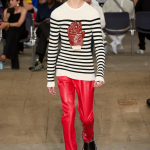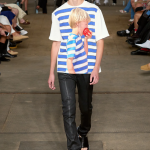 Highly anticipated was his debut at Milan Fashion Week, which took place on June 19 with a show that brought brazen and illusory fashion to the runway: to emphasize the illusion of modernity, JW Anderson chose Rembrandt as the protagonist of his work through reproductions inlaid on knitwear and prints on sneakers with the artist's eerie engraving. Industrial gloves, stock photos of a child eating an apple, and the rest of the devices produced a kind of theatrical shock of casualness and provocation.
Prada's leather uniform
Essential, dark, but not disturbing: Prada's SS23 collection attempts to reflect again on menswear classics. And it does so by bringing in dark suits, macro vichy overcoats, and leather shorts. If the classic suits reflect a simplicity and elegance designed for everyday wear, the leather uniform is charged with the erotic tension that is Prada's ultimate choice. Indeed, the collection bears the name Prada Choice.
Etro's sexy caftan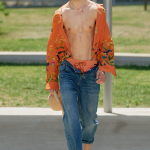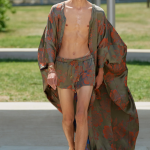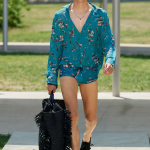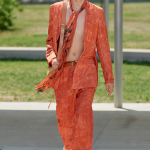 Kean Etro's wardrobe-this is the last collection that will see him as creative director of the fashion house-is composed of clothes that are tinged with a languor, sensuality and masculine eroticism with bodies contained by netted dresses or revealed by sangallo shirts or even almost impalpable kaftans. Jackets alternate with kimonos and there is no shortage of silk satin pants, pullovers, boxer shorts, long shirts and swimsuits. The volumes are soft, but are charged with a sensuality that the designer called an act of love.
Dolce & Gabbana's distressed denim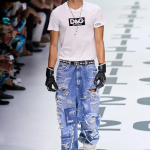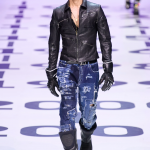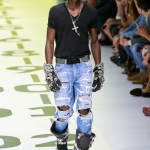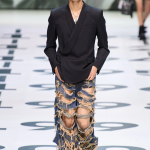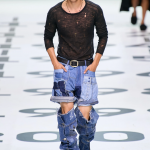 For SS23 Dolce & Gabbana imagines overhauling the brand's archive and heritage, drawing heavily on the imagery of the early 2000s. And so on each garment on the catwalk there is the label Re-editing with the indication of the year and the season, and as we go along it forms not a sort of collection of Domenico and Stefano's personal memory. Operation, that of revision, which translates into distressed dresses and denim to remark the weight of coming to terms with the rediscovery of one's past.