The complicated case of the hoodie shirt
Trash or avant-garde?
Everything in life can be doubted, except Kim Jones' taste in menswear. It caused some surprise, then, in the show for Dior Homme's Resort 2023 collection, presented at Venice Beach and featuring a capsule designed by ERL's Eli Russell Linnetz, the lone appearance of a model wearing a shirt and tie under his hoodie. Now, the appearance was not problematic in itself, yet it raised in the writer the first of many existential doubts: until then, in fact, the shirt/hoodie pairing was something dangerously borderline, a geeky style solution to put it bluntly, suitable for those office colleagues (not mine, if they are reading this) who want the formality of the shirt and pullover combo but want to feel modern and therefore incongruously mix these two such antithetical garments. A notion that was immediately questioned - after all, isn't it true that today's bad taste is tomorrow's good taste? That those who we think are dressed badly in the present are just anticipating the trends of the future? After all, even Birkenstocks were taboo a few years ago, and now they are practically everywhere. Dior's look, of course, was great - which triggered a little research into the past collections of other big brands that led to surprising results. Valentino, Thom Browne, Vetements, Aimè Leon Dore, Celine - even Alessandro Michele, in a couple of his early Gucci collections, had explored the territory by combining hoodie and silk shirt with attached scarf and putting a large collared shirt under a hooded track jacket.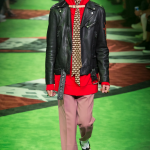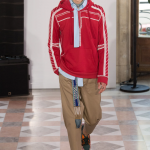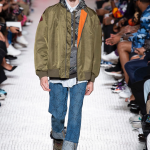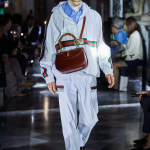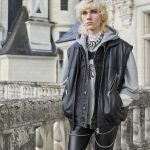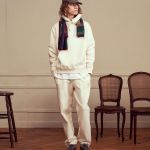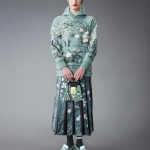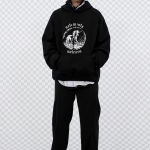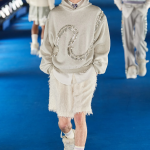 But what is it about this combination that makes it interesting for designers and instead makes it look so anomalous when we see it in the office? Mainly, one would be inclined to say, it is a question of proportions. The version seen on the Dior Homme runway, for example, put the white shirt under a hoodie of subtly enlarged proportions, making it a kind of tunic-nothing seems stuffy, there is no trace of awkwardness or clumsiness. In the case of Thom Browne and Valentino, however, the hoodie has more traditional dimensions but in general the overall fit is quite surgical and it does not seem, as in other cases, that the collar of the shirt is suffocating the wearer-an element from which to draw another important lesson: if indeed shirt and hoodie are to be paired, at least let the collar not be gigantic nor so tiny that it disappears. Once again, the secret is proportions. But that doesn't answer the most essential question: why does the shirt collar poking out of the hoodie look so appealing to designers? Perhaps because of the coiffed-but-sporty air it evokes, perhaps because the sporty hood can become a surrogate for a sweater or jacket (this is how Frank Ocean interpreted the silhouette with his Prada anorak at the Met Gala) or perhaps because, when all the elements align and a miraculous alchemy is found, as in the case of Dwyane Wade or Celine's FW21 collection, the effect is one of prodigious fragility, of a very relaxed composure.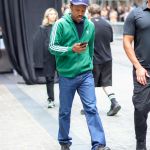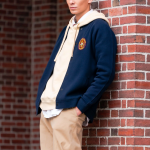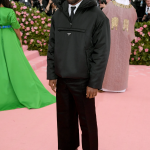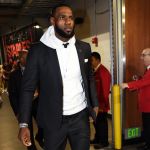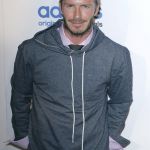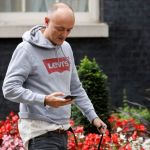 Taste for contradiction aside, the solution is hardly seen both on the catwalk and in life precisely because overlapping a traditionally formal garment with a traditionally informal one seems like one of those compromise solutions that don't really solve anything. Yet this seemingly absurd combination makes sense in an era like the post-pandemic one we're in where Birkenstock's Boston Clogs can become a formal shoe and a fancy one at that, where showing up to the office in a designer jumpsuit is no longer inadvisable, and where a suit with shorts no longer elicits visceral horror reactions. Even to go to the most anticipated show of the month, the Balenciaga show in New York, Frank Ocean mixed a collared polo shirt with a zip-up hoodie from adidas even though, as British conservative David Cummings, who has made scruffiness a signature, shows, the combo of the two made without study and an eye for aesthetics goes back to looking like the outfit a 12-year-old boy waking up late for school would choose. In this universe with such open boundaries, the hoodie shirt can become an interesting field of experimentation for fashion, a low custom to be elevated upward through the myriad tricks that only good designers know. After all, the evolution of menswear is a story of acceptance, the story of a mistake becoming a solution, of a rip-off becoming a rule.