Harry Styles' wardrobe through the years
Dai One Direction a Gucci
Today Harry Styles turns 29. To this day his status is undisputed: today he is the leading male pop star on the European scene, as well as one of the most talked-about and discussed style men of our era. But it was not always so.The first time we heard about him, the singer was 16 years old and was at the beginning of his career withone One Direction. The teen aesthetic of the boy bands helped him to garner a huge following among young girls all over the world, but it was his gradual turn of style, which began in 2014 and consecrated with the amazing look of the Met Gala 2019, that made him the style icon he is now. In a world overrun by streetwear and trap, Styles' looks evoke rock 'n' roll and the 70s with a mood suspended between bohemian and dandy. He became the favorite face of Alessandro Michele who made him the protagonist of four campaigns for Gucci and even collaborated with him for his penultimate collection for the brand, Gucci HA HA HA, and every public appearance of his is marked by amazing looks, also thanks to the work of his personal stylist Harry Lambert.
Harry Styles is a natural. Those who become famous at a very young age and grow famous have two paths in front of them: one leads to oblivion and can be more or less bumped by scandals and depression; the other leads to true fame, the one that comes not from a crowd of adoring fans but from the charisma of a defined personality. The problem with boy bands is their generalist appeal, which obliges members not to have a strong identity, because they must please the widest possible audience range.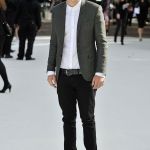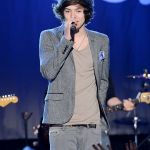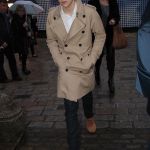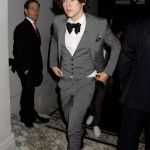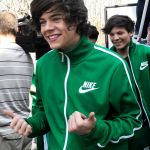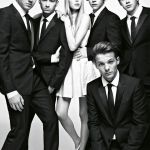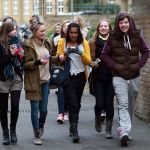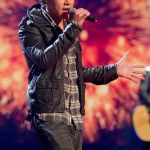 So began Styles in 2010, with an unofficially definable haircut like "à-la-Bieber" and a wardrobe full of generic dresses with a vague preppy flavor. Still the personality was missing, as his suit for Burberry's SS13 show testified. The three-piece he wore for the 2012 Brit Awards was much more stylish though. That same year, he appeared on the cover of Vogue, along with the rest of the band, all dressed in Dior. His style during the early years was simple: shirts, skinny jeans and suede boots. To these three elements was added a jacket, as a stage look, and little else. In 2013 unbuttoned shirts began to make their first appearances along with his tattoos on the chest. His hairstyle changed too, as he kept his mane collected inside a white fedora. The date turning point for his wardrobe is September 16, 2013, for Burberry's SS14 show. The first elements of the current style make a first appearance: oversized coat, disheveled hair, black leather boots and an animalier shirt. In 2014, a bandana holding his hair made him look like Mick Jagger, and in his wardrobe start appearing suede pieces, the patterned shirts of Alexander McQueen and Marc Jacobs, Hedi Slimane's and Lanvin's suits. The best item is the Saint Laurent's leopard-print bomber jacket with which he shakes hands with Prince William.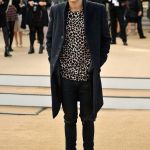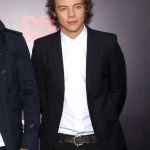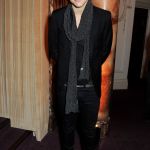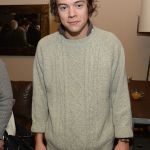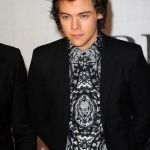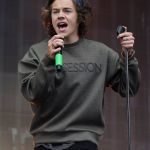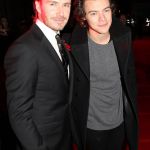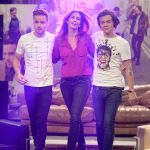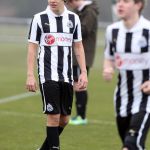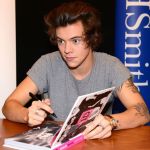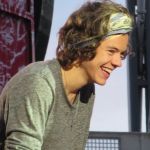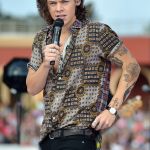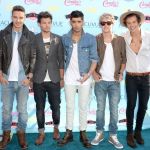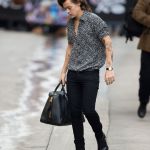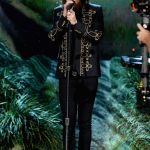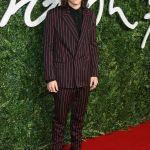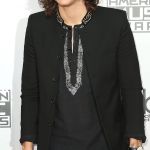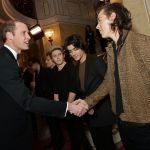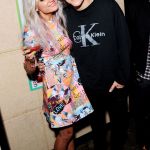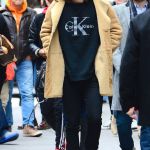 In 2015, Styles was 19 years old. During London Fashion Week he is spotted in a geometric patterned suit by Gucci, of which Alessandro Michele had taken the lead in January. In December he appears for the first time in flared pants and a black shirt with a huge bow. This is the first look similar to those we will see during his solo career. The relationship with Gucci got closer for the American Music Awards, to which Styles showed up in a floral print suit of the Gucci SS16. Other shirts and trousers from the brand will begin to appear in his wardrobe along with his ubiquitous Saint Laurent suede boots. These year is the most decisive: 2016 will see the beginning of his maturation, of his solo career and his famous photoshoot for Another Man magazine, which will show the world he's not a boy anymore.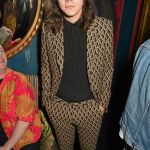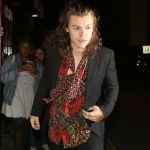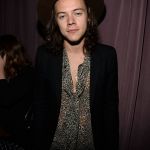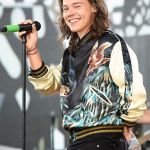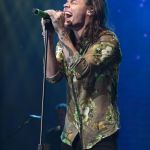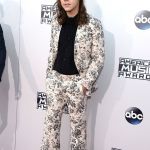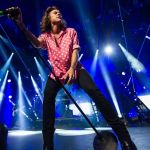 2017 is his year. His outfits are signed by Edward Sexton, Alexander McQueen, Stella McCartney and Vivienne Westand.
Gucci creates custom pieces just for him
such as the pink suit with embroidered dragons and silk shirts and jackets with floral decorations. His solo career took off with the triumph of
Sign of The Times
and he made his film debut with
Dunkirk
. The teen aesthetics, plaid shirts and sweatshirts are abandoned. When he takes the stage, Styles wears imaginative outfits with glam rock accents. Of all the stage looks, the most iconic is certainly that of the iHeartRadio Music Festival with
a red and black lozenge suit by Gucci
and a semi-transparent shirt with a bow. Off stage, the only traces of the past are skinny jeans and ankle boots. Even the street-tightest looks are bohemian with soft-cut trousers and Vans.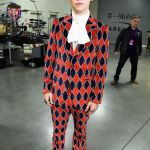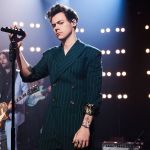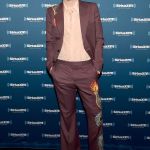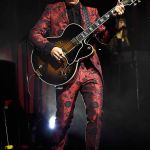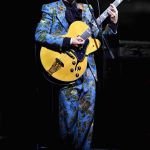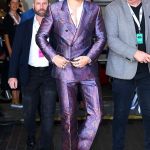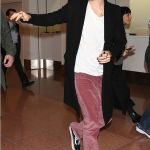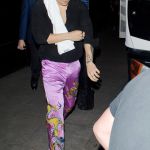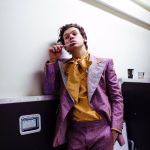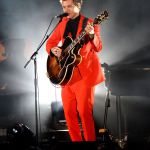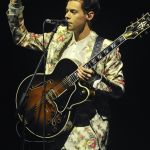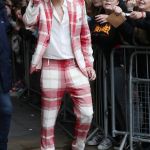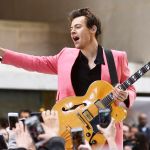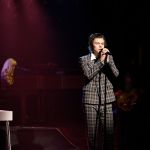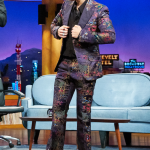 2018 continues its partnership with Gucci and increases the accelerator on the increasingly theatrical suits. In March, Styles opened his wardrobe to a more experimental fashion with the Victorian-inspired and gender-fluid custom suits of
rising fashion star Harris Reed
, a designer and student at Central Saint Martins, and also part of the Gucci family. McQueen and Calvin Klein also appear in his stage look rotation on his tour. So spends 2018, which is also the year of the first campaigns with Gucci. The
Met Gala
is the milestone in 2019. Styles arrives on the red carpet in a s black lace ensemble, with a single pearl earring, alongside Alessandro Michele. From there on, Gucci becomes the hub around which his wardrobe revolves, which in the meantime has become so extensive and precious that it has to be stored in
an underground vault in London
. He becomes the face of the campaing for the Gucci fragrance
Memoire d'un Odeur
along with other creatives of the Gucci family and for the cover of the new album
Fine Line
, released today 13 December, he wears again an outfit signed by Gucci confirming the deep relationship that unites him to the brand.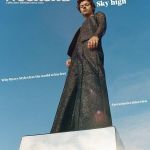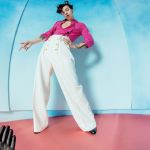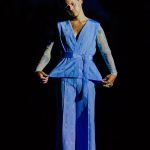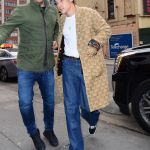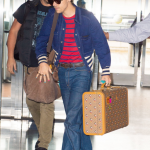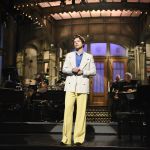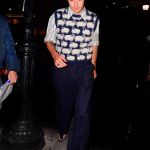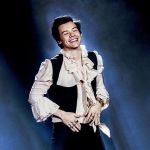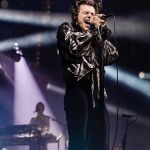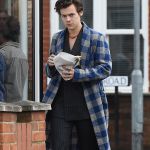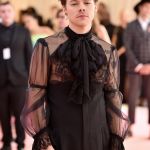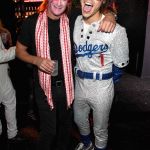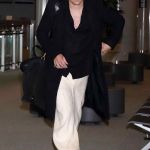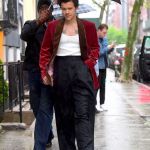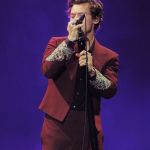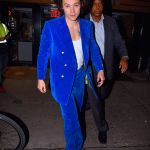 In his most recent appearances, his style has come to full maturity. After Saturday Night Live's tour de force, in which we saw three outfits in one night, Styles was spotted in New York in a Lanvin waistcoat reminiscent of one of Lady D's iconic sweaters and pink boots, while in another occasion he wore oversized jeans , a monogrammed coat from Gucci, Vans and a denim cap. Most recently he appeared on the cover of Guardian Weekend, dressed once again in a bespoke suit by Harris Reed. His style blends Mick Jagger's vaguely androgynous irreverence with Elton John's joyous freedom of expression. Not surprisingly, his wardrobe seems to combine all the musical subcultures of the 20th and 1970s and, in the words of Michael Kors, "Harry is the modern embodiment of British rocker style: edgy, flamboyant and worn with unapologetic swagger."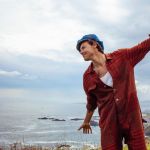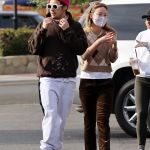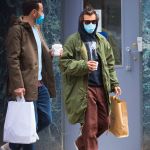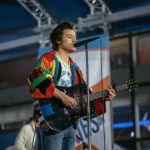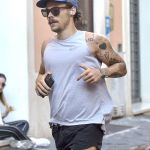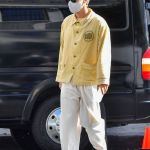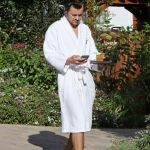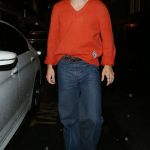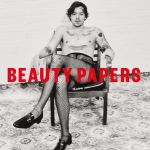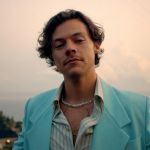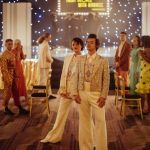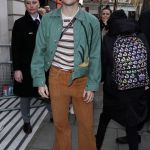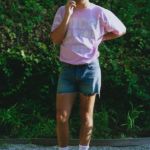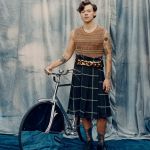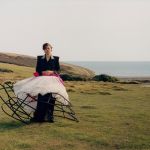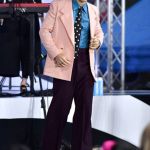 During 2020, the year marked by the extraordinary success of Fine Line, Styles further consolidated his status as a fashion icon. The most unusual episode certainly occurred when, after wearing a JW Anderson sweater, the item went viral online and the designer himself published the pattern to allow fans of the singer to create it at home. Styles also made history by becoming the first man to appear on the cover of Vogue U.S. showing off his gender-fluid aesthetic. Meanwhile, his bond with Gucci and Alessandro Michele deepened further, culminating in the singer's appearance in the film Overture For Something That Never Endend with which the brand's SS21 collection was presented. The collaboration with Gucci, in addition to his now famous stage costumes for his latest tours, was consecrated, as we were saying, by Styles' participation in the creation of Gucci HA HA HA, Alessandro Michele's penultimate collection for Gucci created precisely with the singer who, by the way, is finding immense success around the world with his Pleasing beauty line.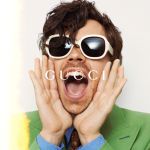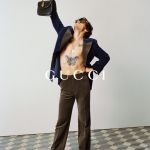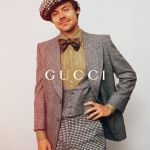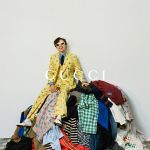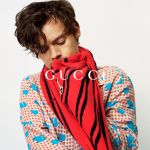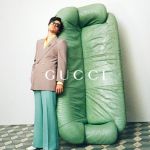 It was precisely Gucci HA HA HA, along with the looks seen at the Venice Film Festival, that represented the jumping of the shark for the relationship between the Italian brand and Harry Styles, whose outfits were now so contrived and predictable in their aseptic, in-vitro-created and coldly planned eccentricity that they resembled stage costumes more than conscious stylistic choices. Now that Alessandro Michele has left Gucci, however, audiences and critics wonder what will become of Styles' own style. If Harry Lambert, his stylist, does his job though, we may finally see Styles' wardrobe open up to the full variety of contemporary menswear, giving his image and look a much-needed refresh, frankly. But there is no doubt that if anyone can reinvent himself, that someone is Harry Styles. We'll just have to watch and see.