Gucci leaves Italy for Paris
On the occasion of the next September Fashion Show
Presenting the magical Pre-Fall 2018 campaign set in the hypnotic streets of a revolutionary Paris, Gucci officially proclaimed its love for the city of lovers, the beginning of a story that seems to be decided to mark not only the style of Michele's brand but the entire fashion system.
A second tribute is the Cruise 2019 show that will be presented no less than in Arles, next May 30, at the ancient necropolis of Alyscamps, location that certainly will not simplify the organization of the event being a site recognized as heritage of the Unesco, so not entirely optimal for a catwalk, but certainly in perfect line with the taste and the sought touch of Gucci.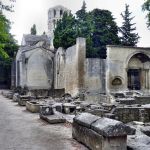 Cherry on the cake? Today, the Made in Florence brand has confirmed that on September 24th it will show its Spring/Summer 2019 in Paris, a decision shared with the Italian National Chamber of Fashion and the Fédération de la Haute Couture et de la Mode.
Marco Bizzarri
, President and CEO of Gucci, declared in this regard:
"When Alessandro told me about his desire to present the next collection in Paris, I thought that there were all the prerequisites for continuing with this kind of tribute: we chose to show on Monday, September 24th, which is the transition day between the two fashion weeks in Milan and Paris, to avoid impacts on their respective calendars".
And Milan? Dear Italians there is no fear, Gucci will be back home for the upcoming February show.
Carlo Capasa, President of the Italian National Chamber of Fashion, commented:
"Camera Nazionale della Moda understands and respects the reasons for Gucci's request to present the Spring/Summer 2019 collection in Paris for this occasion and we look forward to the return of Gucci to open the Fashion Week in Milan next February".
The countdown has begun!