Is Banksy actually the Massive Attack's co-founder?
A new theory tries to unveil the artist's identity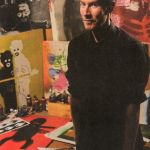 Everything you thought you knew about Banksy might falter. According to allegations made in a long essay by Scottish writer Craig Williams, in fact, Banksy's works should not be attributed to a single artist but to a collective headed by the Massive Attack's co-founder, Robert '3D' Del Naja.

Although the theory may seem absurd, Williams has collected a series of proofs that show that many of Banksy's works have appeared in locations that perfectly match those of the band's tour dates in the same period, or in places where the components were recording in studio. The additional confirmation could come from the fact that, in the past, Del Naja was a street artist in the Bristol area – exactly as Banksy.

We'll we ever get to know the truth about the artist's identity?