Travis Scott will play at Rome's Circus Maximus
But what happened to the live in Pompeii?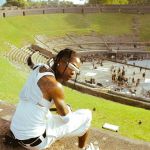 UPDATE: After this morning's rumors, the confirmation is finally here. It was Travis Scott himself who made official the Roman date of his tour, scheduled for August 7 at Rome's Circus Maximus. As specified in the post published by La Flame, tickets will go on sale from 10 a.m. Thursday, August 3, directly on the rapper's official website. No news yet, however, on the other two live teased by Scott: the one in Egypt and the one in Pompeii.


There is confusion in the Travis Scott household. Or at least that is what is transpiring. A few days have passed since the rapper had announced through his own site a mysterious live in Pompeii part of the promotion of the new album Utopia and that, at least momentarily, would replace those in Egypt, postponed due to some logistical problems. But if even the concert in the city of Campania remains shrouded in mystery (at the moment, in fact, there are no details about the date or the concert itself), Scott did not remain idle by announcing yet another live show within a historical location: the Circus Maximus in Rome.
The news began to circulate after the event appeared on Vivaticket's portal, complete with details for ticket sales, available starting tomorrow, August 2. It is unclear whether this Roman lives will replace the one in Pompeii, while the same event at Circus Maximus at the moment seems to have disappeared from the website of the retailer that had previously announced it. The only certainty at the moment is the great confusion that seems to reign in the promotion of Travis Scott's album, appreciated by fans but at the center of a promo campaign made of many doubts and few certainties. We will just have to wait to understand more.
Moving from music to fashion, in recent days La Flame had been spotted with a mysterious shirt that seemed to anticipate a collaboration with Givenchy, later also confirmed by the brand's creative director Matthew M. Williams. While it is a sure thing that Scott will make his debut in the world of cinema at the next Venice Film Festival with Aggro Dr1ft, the film directed by Harmony Korine will be presented out of competition during the Venetian kermesse.