Why wasn't the red carpet at the Oscars red?
A redesign that served to raise the bar for the event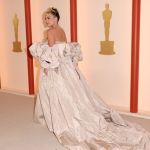 Yesterday's Oscars 2023 ceremony took place without slapping the stage (thankfully) and more importantly with a series of award ceremonies that really pleased everyone with Michelle Yeoh and Brendan Fraser taking home a well-deserved statuette with a double comeback that we will remember for a long time. But there was another detail that caught the audience's attention - and that is that the red carpet was not red but champagne colored. The choice has already become a source of contention online, with many users complaining about the very clear carpet soon dirtied by the passage of hundreds of soles. The decision, no less, was momentous as it had been since 1961 that the Oscars red carpet was red, a color that has become synonymous with celebrity and showbiz itself. The idea is the result of the new creative team behind the ceremony, dubbed the "crisis team" after last year's incident, which includes former Vogue editor Lisa Love and especially Raúl Àvila, creative director of the Met Gala, who was called in to create a more classy and different edition of the Oscars than the usual show.
The Oscars introduced the red carpet in 1961 and has had one every year since. Until this year. A red carpet creative consultant decided a "champagne" coloured carpet would help with "the change from daytime arrivals to an elegant evening setting". To me it looks beige. Thoughts? pic.twitter.com/g679yPZEng

— Colin Paterson (@ColinGPaterson) March 12, 2023
«We chose this beautiful sienna, saffron color that evokes the sunset, because this is the sunset before the golden hour», Lisa Love told the Associated Press. But already some malicious tongues are saying that as photographers looked away, pieces of the carpet were removed and replaced with other, cleaner pieces since arrivals at the ceremony last as long as four hours. Even Best Supporting Actress winner Jamie Lee Curtis made a somewhat risqué joke about the affair on Twitter. In reality, it seems that the organizers' desire was not so much to innovate for the sake of it but to bring this edition of the Oscars closer, even visually, to the Met Gala - the culmination of the gala season of American entertainment during which the red carpet has often changed color and is generally associated with greater artistry and elegance.