The 5 best moments of the second night of Sanremo 2023
Cultural hegemony: achieved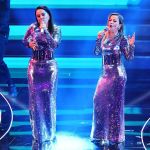 Second and, thankfully, calmer evening of Sanremo 2023. After a first evening of metaphorical fire and brimstone, the second returned to the rails of normalcy - with very "Sanremo-esque" moments such as the giga-medley of Al Bano, Massimo Ranieri and Gianni Morandi that was fine but, frankly, five or six minutes longer than it should have been. The godmother of the second night was Francesca Fagnani, who was outright serving in Armani and who brought to the stage a simple, succint and very impactful monologue on the importance of education and juvenile crime that began by saying she did not want to talk about herself: shots fired at yesterday's monologue? In the aftermath of Blanco-gate, moreover, all the young performers in the competition (Lazza, Rosa Chemical, LDA in primis) maintained an education, genuineness and wholesome poise that made them loved in the eyes of an audience that usually frowns upon facial tattoos, people from the trap or hip-hop world or generally overly transgressive looks. Other highlights of the evening included a performance by the Black Eyed Peas, who got themselves a new singer, J. Rey Soul, from 2018 and who, with I Gotta Feeling, reminded us of when our brains were still producing serotonin (we paraphrase from a Crudelia Memon meme.) And in the face of a pissed-off and adorable Fiorello practically begging to be put back on the Ariston stage, Angelo Duro's final sketch didn't hit the spot, like at all: Duro's comedy is not fit for the Ariston but for the Internet; the comedian is funniest when he is free to take selfies and say things far more outrageous than those Amadeus threatened.
But let's not linger any longer, here are the 5 best moments of the second night of Sanremo 2023.
1. Paola e Chiara
Covered in glitter like in the best episode of Euphoria (if Euphoria were an Italian state TV series), surrounded by black-clad dancers who brought to mind the Y2K choreography of Jennifer Lopez and Madonna, Paola and Chiara appeared on the Ariston stage wearing a version of the same Dolce & Gabbana dresses that Naomi Campbell wore during her community service days, reappearing on the scene with the same epicness with which Dr. Manhattan first materializes in Watchmen. Their track, Wrath, will be everywhere this year and seems tailor-made for the Milnese evenings at La Boum and Plastic - when all those years ago the two sisters asked, on the notes of Festival, to open a gate of light no one imagined they meant a Stargate of this magnitude. Perhaps we already have our winners.
2. Fedez against everyone
Where to begin? Initially, this gesture of rebellion seemed coldly planned with the approval with an army of PR people - then Fedez ripped off the photo of Deputy Minister Bignami dressed as a Nazi (imagine the panicked director ordering the cameramen to frame him only from a far distance) while singing a lyric that was finally more biting than his more recent, sentimental, do-gooder output. Of course Fedez has ceased to be edgy or rebellious a very very long time ago, however it must be appreciated that he gave us the only shred of controversy in this second evening. What a knight then to take away «chestnuts out of the fire» for Amadeus taking full responsability for the impromptu freestyle – we follow Sanremo for this too.
3. Fiorello outside of the Ariston
Can we declare him a total mood? What a relatable king we have in Fiorello, ladies and gentlemen.
4. Rosa Chemical chews the scenery
When he came down the stairs in a Moschino suit and fake claw-like nails, one could really expect anything. In the end, however, in the face of his disarming courtesy, and also thanks to a perfectly balanced song, certainly biting but never so transgressive as to overflow into bad taste, even the conservative, mature and often serious Ariston audience could not help but applaud. Something about his so perfectly executed performance made him stand out in the mass of young singer-songwriters present on the night - could it be freshness? In our opinion, yes.
5. The brilliant Lazza
Honestly, there was every reason to expect something boorish. But everything fell into place. The song's attack, vaguely Kanye-inspired and produced by Dardust, finally sounded like music from this century, and that only in a sea of such stylistically bland ballads that could have been produced even in the 1980s without anyone realizing it. After the start of the performance, with a very beautiful song and also very "sanremese" (in the good sense of the term and therefore appropriate to the mood of the Festival) we begin to notice her outfit: a wool workwear suit whose zig-zagging crystal pattern is that of Filippo Graizoli's new Missoni, which, with this look, demonstrates how much the historic Italian knitwear brand is able to flex and adapt its imagery to become a stage outfit with all the imaginable chrisms. Especially since the fit of the suit was near perfect. Chapeau.