7 times fashion designers have designed chairs
Exploring interior design, from Rei Kawakubo to Rick Owens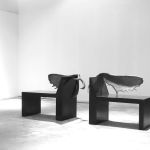 From Gucci's maximalist offerings to Rick Owens' brutalist pieces, it has become a widely accepted insight that fashion designers consistently experiment with concepts drawn from a variety of mediums. Their inspirations lie even in unexpected places: think interior, paintings, nature, and even tables – and with this, it's no wonder that we see a clear feedback loop between the most popular trends on the runway and those pieces of furniture in our homes.
No other type of furniture offers the same possibility of facilitating connections to the same extent as the design of chairs, and perhaps this is one of the reasons why luxury fashion labels such as Ann Demeulemeester, Louis Vuitton, and Comme des Garçons have ventured into the business of interior design. Here, nss magazine outlines the top 7 times the lines between fashion and furniture have blurred.
Rei Kawakubo
Comme des Garçons' Rei Kawakubo's introduction to furniture design started in the 1980s, twenty years after her transition to fashion design. For 10 years– much similar to Rei's intuitive approach to garment making– she produced compelling form-over-function chairs using materials like granite and steel to accompany her displays for her flagship stores. The chairs, named by their order of production, are an undeniable mimic of the eschewed functionalism and aesthetics behind Comme des Garçons clothing – austere, uncomfortable, unconventional. With unconventional feats such as steel slings and metal rods, the chairs exist between art and home display: they test the boundaries of what is sculpture and what is furniture.
Virgil Abloh
In 2016, just when he was dominating the realm of both streetwear and fashion, the late Virgil Abloh decided to foray into his roots and launch his first furniture line: The Framing Collection. With a master's degree in Architecture, his interest in the concept of durability was inevitable; the metallic mesh and marble pieces – which formed part of his designs chairs – necessitate ongoing communication with Virgil's manufacturers in order to push them to renew their techniques. In an interview with Numéro, Abloh expounded on his work: «the grill is a key theme for me… it's inspired by the architecture of Mies Van der Rohe, the rational distribution of [the] weight of a building, from the ground up to the roof, draws this pattern. The idea to show the structure rather than hide it was essential for Mies Van der Rohe too».
Raf Simons
Being well-known for never having received traditional dressmaking lessons, Simons actually earned a degree in Industrial and Furniture Design in 1991 prior to his transition to high fashion. Today, he is the co-creative director of Prada and a collaborator with Kvadrat, a Danish textile firm with whom he has been working on homeware upholstery fabrics for the past nine years. «A total 180 from the industry of fashion» is what Raf would describe his work with Kvadrat. In this realm of art, Simons does not race against the clock nor do they produce pieces with the intent of replacing after a few months' time. With often minimalist finishes, Simons definitely believes in less is more. Simons' furnishings are seemingly minimalist yet ambiguously modern, much similar to his designs in fashion. In this world, there exists no hierarchy for fashion and furniture design, and like the pieces he has made for his namesake: «it's something you keep forever».
Ann Demeulemeester
«It's exciting to use new ways to create beauty – maybe it's a part of a never-ending quest and evolution».9 years after segueing her namesake brand, Ann Demeulemeester is back: not with her eponymous label, but with strong attention to the world of furniture. Demeulemeester has «always felt a strong affinity with furniture», she tells Hypebeast, and the lockdown during the COVID-19 pandemic was the «perfect timing to work on [her] own furniture collection». Demeulemeester's flair for austerity, minimalism, and the unexpected is alive and well with her own interior line; it calls to mind yet another aspect of the one-of-a-kind world she has developed throughout her tenure in fashion. Today, Ann Demeulemeester has two collaborations with the Belgian brand Serax, one including a furniture line and the other, a homeware line titled "De", available on the Serax website.
Alessandro Michele
Despite leaving Gucci last December, Alessandro Michele has made a name for himself both in the sector of fashion and interior. In 2017, Gucci lovers around the world were met with excitement when Alessandro Michele established Gucci Décor – the luxury house's dreamy, romantic yet whimsical take on home interior, crafted with carefully-selected materials made by the finest Italian artisans. Gucci Décor is composed of chairs, cushions, screens, walls, and trays which are adorned with the house's signature motifs of animals and vibrant floral designs, all designed by Michele.
Rick Owens
Rick Owens has changed the fashion game with his steppers and brutalist fashion, but it's rather unbeknownst to some that the designer has been making furniture since 2007. When asked about his design ethos, Owens replied, «a Brutalist fur on a Brutalist rock next to a Brutalist fire in a Brutalist cave». Owen's offerings are silent yet exquisite due to his inspiration from the Art Nouveau era. «I want stuff to be big, strong, and silent», he says in an interview with Vice. Big, strong, and silent indeed: the picture above portrays Owen's use of marble as means of his vision and sartorial self-expression. On that note, timelessness and novelty appear to be the dominant looks in the furniture he delicately crafts, with the use of solid black, alabaster, and bronze.
Kris Van Assche
During the 2019 Design Miami fair, Kris Van Assche, creative director of luxury leather company Berluti, collaborated with François Laffanour, proprietor of Laffanour Galerie Downtown, to present 17 magnificent authentic Pierre Jeanneret works produced by the Swiss Designer in the 1950s. What stands out about the collection right away are the colors. Van Assche used 18 different hues for the 17 pieces, which include the Simal red and purple Sukhna cinema chairs, the Nespola orange daybed, and the Pinjore garden green judge armchair.