For Zuckerberg building the Metaverse is costing more than expected
Between small profit margins and continuous losses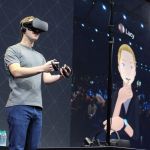 Since Facebook debuted its new corporate branding last October 28, Meta, the parent company of Facebook, Instagram and WhatsApp, has seen a 5% decline since 2021, worrying investors enough to push the company's shares down more than 20% with a market value slump of more than $230 billion. But now executives can finally breathe a sigh of relief, after a few days ago, for the second time since its rebranding, Meta reported its quarterly earnings with a growth of 3 billion compared to last quarter: albeit slightly, daily active users have finally increased.
Despite the downward trend in advertising revenue due to the Russian war in Ukraine (Facebook is now banned in Russia) and the company's huge expenditure to 'build the Metaverse', Meta's quarterly revenue increased by 7%. The growth can be explained by the fact that Meta's apps are growing on the Asian continent, where ads cost less than in the US and Europe. Revenues from Facebook, Instagram, WhatsApp, and Messenger thus serve to make up for the huge outlays on virtual reality projects that Mark Zuckerberg would like to see become the "jewel in the company's crown" in the future: Reality Labs operated at a loss of $2.96 billion while it lost more than $10 billion last year, money spent on Metaverse that Zuck says "sets the stage for a very exciting 2030". Horizon Worlds, Meta's social VR app "at the heart" of the company's strategy to develop Web3, was the main source of monetisation last quarter, but in-app purchases won't move the needle much if the platform doesn't gain a significant number of users soon, which it hopes will happen when Meta launches a web version of Horizon.
"I recognise that this is an expensive process, building something that has never been done before," Zuckerberg said, also admitting that because of these investments, Meta's overall profitability will not grow in 2022. However, Meta is working on Reality Labs' most promising money maker a sort of helmet - codenamed Project Cambria - "intended to replace the laptop". Meta is also working eye-tracking and face-tracking so that when socialising in VR, users will be able to perceive live facial expressions from real life. "I'm just trying to lead the company in a way that builds the future of social interaction in the Metaverse," Zuckerberg said, and perhaps he should be given the benefit of the doubt for at least another quarter.