10 Year Challenge: brands a decade later
How has the aesthetics of five iconic brands changed?
Ten years is a significant span in a lifetime. In the fashion world, it equates to a geological era. Especially considering that in these times, creative directors come and go with the speed of the wind. However, fashion, as a mirror of its times, undergoes radical changes, influenced by market dynamics, cultural trends, and, as always, the cold, hard cash. As the viral 10 Year Challenge on TikTok is prompting audiences worldwide (including celebrities) to look back at the past decade, we too wanted to take a look at some of the brands that have changed the most over the last ten years. Overall, it's evident that today's fashion is more oriented towards everyday life, whereas a decade ago, the runway featured more formal or occasion-specific attire. Daywear would make its way onto the runway a few years later, at least in the form we know it. Ten years ago, the distinctive identity of various brands was expressed through more subtle and intricate details placed in very classic silhouettes; in recent years, the peculiarities and differences of brands must be more explicit, visible, and, if you will, immediate.
For our comparison, given the crucial criterion of the past ten years, we have compared the most recent fashion shows of each brand in 2023 with their corresponding seasonal shows exactly ten years ago. The seasons we will consider are the last SS24 and SS14 for each brand under examination, combining, for completeness and depending on the case, also the co-ed collections that walked separately.
Burberry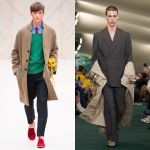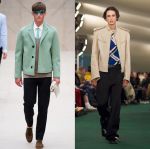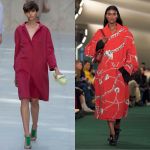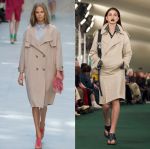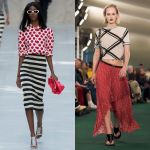 Let's start with perhaps the most shocking news: ten years ago, Burberry showcased in Milan. However, for the SS14 men's show, Christopher Bailey returned to London, specifically to Hyde Park, while for the women's show of the same season, it took place in Nottingham. In 2014, Bailey's star was already fading (the peak of the brand occurred between 2007 and 2011), but the collections of that season exuded youthful freshness and pastel colors. Bailey is a straightforward type: a decade later, his looks are uncomplicated but supremely wearable, familiar, very refined, always cheerful or exuberant. Over the course of ten years, the brand has become significantly more serious, with a highly sustained tone: the witty young dandies in jackets and ties have disappeared, replaced by serious faces, athletic bodies, and structured, monumental silhouettes. The lines are more severe and aerodynamic, the colors denser and darker, and the men and women on the runway are beautiful, but their faces are stern and unapproachable.
Balenciaga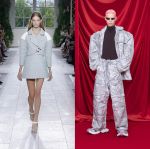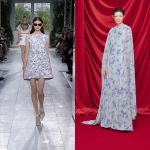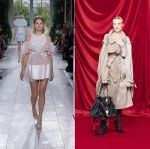 An abyss lies between Demna and Alexander Wang. The only commonality between the two collections separated by a decade is a certain attention to volumes overflowing and flowing like magma in the case of the former or transforming cocktail mini-dresses into fuller structures in the case of the latter. The imagery is entirely different: from a grotesque reinterpretation of classic Parisian style in all its contradictions to garments with more elaborate but also more delicate structures, less focused on surprising but also more languid and conventional. It's worth noting here (and this will hold true for the next three shows we will list) that daywear seems to be absent: Wang's collection is for social, formal, or elegant occasions; Demna's collection is designed to be worn every day and in almost every situation. Another fundamental difference is how we perceive Demna's clothes today, filtered through a social media-driven irony, while Wang's collection is more serious and straightforward, not presented with a concept but simply as clothing—which, in retrospect, makes the execution more appreciable but the results less clearly identifiable.
Gucci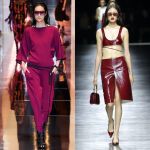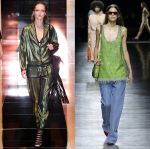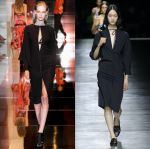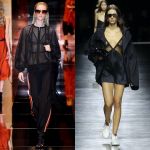 The difference couldn't be more stark. And even though one could argue that De Sarno is the designer who has exposed more inches of skin, his clean-cut girls have nothing of the pure, unadulterated sexual aggressiveness of Frida Giannini's panthers. The key differentiator between these two collections is daywear: De Sarno has his women wear jeans, sneakers, skirts, and jackets; for Giannini, there was only the night, her clubs, her dinners. And while some similarities persist, it's impossible to deny that the brand has made a strong U-turn in ten years: from the jet set to everyday life, from the almost decadent excess of reds and purples, shiny surfaces, revealing drapes; to the quiet and almost sentimental sobriety of the new Gucci.
Bottega Veneta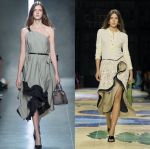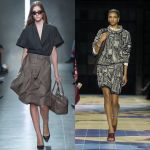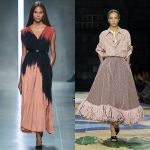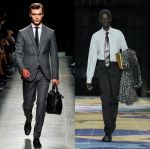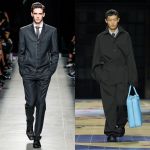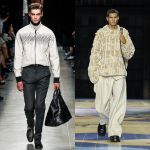 In the case of Bottega Veneta (and Marni, as we will see shortly), one can discern the more general trend of sensationalizing fashion. Tomas Maier and Matthieu Blazy represent the Apollonian and the Dionysian: the former is hyper-classically elegant, opulent in materials but conventional in constructions, overly easily recognizable and identifiable; Blazy, on the other hand, is pure exuberance, a riot of textures, structural details, buttons, layers, drapes. The difference is quite pronounced in menswear: despite Maier's mastery, his men are remarkably dull, all dressed in the same tight gray suit, trying to add some originality with a mix-and-match of very questionable taste. The same holds true for women, whose looks are perhaps more wearable in Maier's case but capture much less imagination.
Marni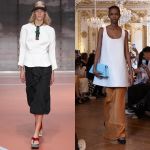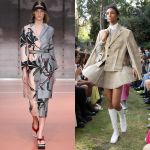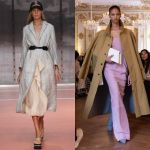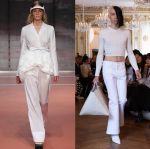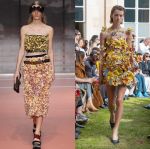 With these two collections we can see very well the change of gear of Marni, which went from eccentricity to anarchy with the change of creative directors. For Consuelo Castiglioni, the Marni woman was rich, cultured and eccentric, the details were kitschy but extremely thoughtful, vaguely agé but dropped into hyper-modern constructions; for Francesco Risso, the Marni woman is definitely less upper-class, equally elegant but fiercely anti-conventional. If in the collection of ten years ago the eccentricity was subtle (kimono-like dresses and sarongs, paired with flip-flops, vintage-flavored floral prints, the perforated leathers), in the current one all the clothes are more everyday and recognizable but are decidedly subversive, with exploding proportions and colors, vivid hemlines, unusual materials such as suede for long skirts, very 1970s groovy details mixed with much more exuberant tailoring.