When one's own work is not enough
Trying to understand Law Roach's farewell to styling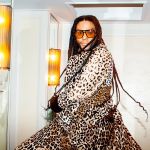 From celebrity stylist to celebrity the step is short - and Law Roach has taken it. After an Instagram post announcing his retirement from the styling world talking about «the politics, the lies, and false narratives» of which he was allegedly the victim, the world's number one stylist reappeared as a celebrity guest at the Boss fashion show in Miami last night, along with a cast that included Naomi Campbell, Pamela Anderson, Khaby Lame, and Precious Lee. Closely, Vogue published an interview in which Roach revealed all by explaining that the drama of his Instagram post was just drama and that, in essence, he had grown tired of « being in service and at service of other people» and that he doesn't want to be seen only as «someone who dresses all these amazing celebrities».
Roach went on to say: «I stepped back and looked at my life and realized I don't have anything but that career. I don't want that to be the legacy», stating that he wants to teach and help other stylists and creatives achieve the results he has achieved - essentially the equivalent of wanting to quit when one's ahead: «I've done everything I wanted to do in this career. I've received all the awards, the accolades, I've changed people's lives… And I just feel like, I've had enough». In this case, it would be fair to say that for Roach, his own work as a celebrity stylist had become both enough and not enough - his interview reveals not so much a desire for narcissistic prominence as a desire for self-determination, moving from working by proxy (i.e., for celebrities who are then photographed) to be upstage and center.
The plans seem vague, but in the end they are not too vague: Roach remains editor for British Vogue under the very powerful wing of Edward Enninful, he has already announced plans to teach and there is no fashion school that would not want him behind a professorship, and he could probably, as some online users have already speculated, even take on creative or advisory roles for brands. In some ways it is easy to understand Roach's decision, that perhaps having reached the pinnacle of the industry (who has done better than he?) he has grown tired of being in the service of others, having to handle perhaps thankless tasks, minutiae of a job that no longer competes with his legendary status. There may, however, be objections from his fans, who will now find themselves deprived of the work that had given Roach that status in the first place.
A case we might compare to Frank Ocean, who after Blonde essentially abandoned music to open clubs, make podcasts, and inaugurate his own fashion brand, becoming a cross-sector figure. Here the classic celebrity dilemma arises: on the one hand, the celebrity is a person who understandably does not want to be relegated to a certain corner or placed in a single box; on the other hand, however, some legendary statuses in fashion are the result of decades of specialized work and not of a career of only nine years, a very long but circumscribed period of time in the grand scheme of things. It is also true that in fashion it is normal for a stylist to do other things: Carine Roitfeld certainly did not stop at styling but cultivated and implemented many ambitions in fields adjacent to her own, and the same goes for Katie Grand.
And by that we mean to say that there will be regret in not seeing more of Roach's work since he was objectively among the best in his field and that, as his admirer, one cannot help but wish that this styling career had lasted five times what it did - but perhaps it is true that for the past decade the multi-decade professional legacies of iconic figures who practiced the same profession for a lifetime such as, say, André Leon-Talley have become perhaps out of date. Why should Law Roach limit himself?
Clearly, Roach's right to self-determination must be recognized even if it remains fair to remember that now that his styling career is apparently over he will be able to enjoy the fruits of his great work until the time comes to cultivate new ones. In short, let us hope that Roach does not fall into the contemporary trend of celebrities living off their laurels, resting on the memory of past successes. We, who love his work, do not deserve it, nor does Roach himself or his legacy. In a dynamic age like ours, after all, even careers have become dynamic and multipurpose: actresses launch cosmetic lines, singers design clothes, influencers become editors, chefs make TV hosts and creative directors make product design. It's the new circle of life - as long as you keep up the good work.