The last cross on hype culture
Are we ready to grow past it?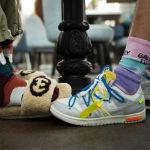 You will probably know what synchronicity is thanks to that person (everyone knows at least one) who is convinced that the stars decide how his or her days will go, that manifesting is different from talking to yourself, and that a piece of quartz in the living room can really rid you of the negative vibrations that haunt your apartment. But the concept of synchronicity, that is, of two or more events whose temporal proximity brings out a recurring pattern within the algorithm of culture, came to the writer's mind when, on the same day, he received the news of the new Tiffany & Co. and Nike collaboration and saw Kenya Barris's new film You People on Netflix. Both products received less-than-stellar reviews and feedback, to put it mildly, but we are not here to comment on anyone's artistic merits. What is interesting is to note how both products, both linked to fashion culture in ways we will discuss shortly, are out of touch in relying on a narrative according to which hype culture and streetwear still possess a relevance that had been abundantly lost even before the pandemic. But let's explain more starting with Kenya Barris's film.
You People is a romantic comedy and social satire whose protagonist is a man, Ezra, played by Jonah Hill, whose personality is defined by fashion. The first thing we see in the film are a pair of Supreme x Nike SB Dunk Low - just the first pair of hypebeast grails in a film filled with Off-White™ and Yeezy sneakers, violently logoed Gucci clothing, accessories from Gallery Dept. and Fuct, and, most importantly, a pair of Sean Wotherspoon x Nike Air Max 1/97, a shoe that is symbolic of hype but to be considered more than passé. The film attempts to tell us that Millennials express themselves through the language of brands and fashion, which is true, but it does so by referring to a fashion that is tragically out of date. In one scene in the film Jonah Hill talks about that multiverse made up of fashion, music, film, and art, calling it «the culture» emphasizing with that determinative article the relative self-referentiality of that fashion bubble in which who is writing and those who are reading these words surely find themselves in. But for a film so passionate about this culture, You People offers a truly obsolete portrait of it. In fact, digging through old articles, one reads that the film's script was already complete in June 2021, and thus must have been written during 2020 and perhaps even begun in 2019 - that is, in the last flashes of streetwear's twilight. The temporal and cultural gap, as a result, could not be more jarring. Especially since the film's protagonist is Jonah Hill, someone who knows a thing or two about fashion, someone who has left hype culture behind for some time now and indeed in the past year has been seen out and about dressed in Marni, Thom Browne, The Row, and ERL - always youthful and sporty but definitely not a hypebeast who takes off his sneakers to avoid creasing. Not surprisingly, a behind-the-scenes photo from the film has surfaced in which Hill ditches the sneakers to wear a more believable pair of Proenza Schouler x Birkenstock sandals.
I thought 'You People' was mid. Huge surprise given the cast and that Jonah wrote it. Eddie Murphy felt like he was forced to be there. All the sneaker culture stuff felt corny too, would have been much better without all the cringy, dedicated on-foot shots.

— RAC (@racslife_) January 28, 2023
If watching You People makes us realize that the streetwear of three years ago has now inexorably faded beyond the cultural horizon, laying eyes on the new Nike x Tiffany & Co. Air Force 1 1837 collaborative sneaker also makes us realize that exhuming it is not a good idea. Greeted by mostly negative reviews, pointed to as an example of complete creative laziness (imaginary versions of the AI-produced collaboration soon emerged on Twitter that were far better than the real thing), the new collaborative sneaker is a hapless dwarf standing on the shoulders of a giant, the Nike SB Dunk Low Diamond Supply Co. Aqua Blue that appeared twice in 2004 and then in 2015. Known as the "Tiffany" Dunk Low this sneaker is something legendary, one of the first grails of hype culture that has made it an idol.
The cult status of the Dunk Low came precisely from the irreverent use of Tiffany & Co.'s blue (or a shade that resembled it) on a skate shoe, also decorated with a silver Swoosh and crocodile-like leather trim. It was not a refined sneaker, but in its day it was a testimony of the rise of those communities that would later make streetwear explode into luxury fashion as well. And if that sneaker conquered the upper echelons by imitating Tiffany & Co. now that the real brand has made this collaboration the coolness has been lost, everything has expired in the most frigid corporate commercialism. Let us add as a side note that the choice of the Air Force 1, with so many silhouettes available in Nike's archive, is really the lowest common denominator of collective taste in terms of footwear, as well as an attempt to revive a category, those of the black Air Force 1s, which historically is not exactly the most popular in terms of sales. The collaboration didn't even try to be original, leading us to believe that those who came up with it thought that Tiffany & Co.'s name alone would be enough to create the hype.
Both the Kenya Barris film and the disappointing release of the Nike x Tiffany & Co. Air Force 1 1837 represent an invitation to put a cross over hype culture. Like so many other trends and subcultures, we will probably exhume it in 20 years, but to dig it up, we must first bury it. Or at any rate realize that it is already almost three years since the hype has been resting six feet underground and the rest of the world has moved on. Even the most fanatical Yeezy acolytes are now selling off their sneakers on Vinted at bargain prices. Which is not to say that the sneaker world is over; on the contrary, sneakers are being made and sold by the ton these days. But lo and behold, the days when the Supreme x Nike SB Dunk Low were a sign of sophistication for people in-the-know and when hundreds of kids lined up in front of a store to grab a pair of collaborative sneakers are gone. Let's let them pass.