Brad Pitt is changing the world of celebrity brands
French wine, exorbitant cosmetics and now cashmere - the star's commitment to luxury expands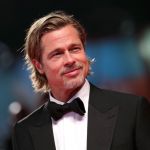 Today WWD published an article chronicling the exponential growth that God's True Cashmere, the luxury knitwear brand co-founded by Brad Pitt and Sat Hari Khalsa, has enjoyed in the four years since its founding. Founded in 2019 and specializing in the production of pure cashmere shirts with crystalline stone buttons at more than $2,000 a piece, the brand's sales increased sixfold last year and will now land in Paris for a presentation during women's fashion week in March - the ultimate crowning glory of a success that has already passed through pop-ups at Selfridges and sale channels on Goop. Strange but true, Brad Pitt's presence among the brand's founders remained more or less hidden for the early days when God's True Cashmere shirts ended up on the market going (apparently) sold-out in a very short time - as did the recently produced tracksuits along with blankets, scarves and beanies. In the article it is written that it is Pitt's partner (and according to some also girlfriend), Sat Hari Khalsa who is responsible for «the heavy lifting», with Pitt involved as a «guide» suggesting and proposing and, now, even quietly promoting, through serious interviews in magazines such as Vogue or WWD, his own lines. We didn't use the plural at random: in addition to God's True Cashmere, Pitt owns an ultra-luxury cosmetics brand named Le Domaine; Château Miraval's Provençal wine where he also opened a music recording studio named Miraval Studios; and even a designer furniture line named Pitt-Pollaro. The actor continues to say that for him it is all about drive and a love of quality, yet his seems less a hobby than a precise business strategy.
In all his various ventures, which, it should be noted, are all in the more high-end segment of the luxury market through a few hyper-specific products, Brad Pitt adopts a strategy that we might call anti-protagonism. While no one could be in any doubt that Kim Kardashian is behind Skims, for example, Pitt's various business ventures do not intend to exploit the actor's fame too explicitly, eschew the bombastic marketing that others would opt for, and generally have a front in the partners, co-owners, and co-founders compared to whom Pitt has more the air of an investor or producer than a central brand personality. Remember the viral 2020 photo of Pitt enjoying coffee and a cigarette after helping the homeless in LA wearing a red and white flannel? That flannel was precisely from his brand - and perhaps that photo one of the most ingenious and invisible marketing tools ever. The blueprint was surely provided by Gwyneth Paltrow, whose Goop is also one of God's True Cashmere's stockists, and especially by the Olsen twins and their The Row, perhaps the prime example of a luxury brand that has managed to emancipate itself from the ugly "celebrity brand" name by building a reputation for quality, elevated design, and now also a highly anticipated fixture of Paris Fashion Week, with illustrious appearances on film as well, as recently in the Oscar-nominated film Tàr. It is no coincidence that when it came to founding their brand, the Olsen sisters also started with cashmere - a cateogory that, after the success of The Elder Statesman and The Row, is being rapidly colonized by stars such as Gigi Hadid who recently founded her Guest in Residence and American brands such as NAKEDCASHMERE, La Ligne and Leret Leret.
At this point it comes natural to think that Brad Pitt himself, an old-fashioned Hollywood star and not one of those transversal celebrities who become a star after six episodes of a TV series, is the unwitting leader of a new school of celebrity brands. Indeed, if originally these lines represented relatively cheap and accessible merchandise that was immediately sellable and commercial (a random example, Onika, Nicki Minaj's best-selling perfume, has a bottle representing the singer's bust, but Lindsay Lohan's or Britney Spears' perfumes could work as an example too) the new mega-stars have realized that addressing the masses means becoming for the masses - you can make money but there is little honor in the end. Far better to follow in the fortunate footsteps of the Olsen twins, with their perfect white shirts, their organic almond milk, and their refined Parisian dèfilés. Those who produce luxury become luxury. But at this point we might ask: does Brad Pitt own a brand or does he want to become one himself?