Are Måneskin's looks cooler than their sound?
Criticism rained down against the band's record would suggest so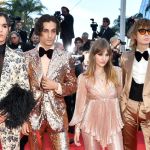 "Måneskin looks a lot cooler than it sounds" is the subtitle accompanying Spencer Kornhaber's review of the world's most famous Italian rock band's new album. Rush!, the 17-track collection crowning the success of the X Factor overseas paladins was released at midnight, accompanied by a symbolic wedding that united the band "till death do them part" at Palazzo Brancaccio, under the eyes of long-time friends such as Alessandro Michele, Machine Gun Kelly, Baz Luhrmann, Fedez and Paolo Sorrentino. And if on the one hand, the event had the desired effect of amplifying the new release of a band that in terms of international charts has set goals for itself that are difficult to replicate, on the other the critics had a sharper target to aim at: the album.
Ever since winning Eurovision, the group has very quickly become a global sensation ready to reap records: Måneskin's cover of the Four Seasons "Beggin" has become a US radio hit, as well as being the world's second most listened to song on TikTok in 2021. Some of the band's biggest influences (Iggy Pop, Tom Morello, The Rolling Stones) have turned into collaborators and fans, and next month they might even win a Grammy. The rise of a rock band in an era dominated by hip-hop and electronic pop seemed a stunning indicator of a momentous, generational shift in mainstream tastes. Yet the doubt that for Måneskin form mattered more than content - or that it was content itself - was already creeping in at its outset, and the new album confirms this thesis. It includes every clichés of Rock 'n Roll on a silver platter: particularly drugs, namely cocaine and weed, a narrative that after Damiano's funereal and self-righteous "we don't do drugs" at Eurovision sounds a little ridiculous, right down to the clichés about sex. With the frontman describing himself as "a lion tamer of indecent conduct" who "makes love to danger", but is also one who "masturbates in the shower". Seventeen catchy but not memorable tracks about nothing, proving that what remains of the band's evolution from the days when they sang in the streets of Rome to their landing in Los Angeles are Alessandro Michele's looks.
So why did Måneskin have their break out? "They are a TV phenomenon," said Italian journalist Andrea Andrei to the New York Times in 2021, and the diagnosis seems right: X-Factor, Eurovision, TikTok, the appeal is immediate and expressed through androgynous and sexy looks, fetish accessories, and lots of gossips. "Måneskin's songs are so clearly recycled, so shamelessly mediocre, that the idea of the band igniting a culture war between rock and pop and with it, stereotypes about reality and falsehood, passion and product-seems tragic at best," Kornhaber rails in the pages of The Atlantic. And Italian journalists follow suit because now that the criticism comes from abroad, they finally feel legitimized to demolish the myth of Måneskin as the band that brought rock back into vogue, without being once again accused of being incapable of rejoicing in their own "national pride".