A guide to minimalist menswear on Vinted
How to find it and which brands to buy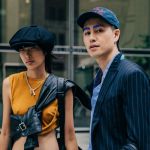 Within a year or two, Vinted has become the leading online marketplace for secondhand fashion for at least three different generations. Unlike platforms such as Grailed or Vestiaire, which are more dedicated to traditional luxury brands, on Vinted you can find a little bit of everything, from Tom Ford's Gucci to half-forgotten Y2K brands, as well as a large number of contemporary indie brands in whose descriptions other similar brands are often listed for the sake of visibility in searches, turning the description of one product into a series of references for finding other and similar ones. Let's take an example. Suppose you enter the brand Our Legacy in the search bar, but do not select the brand: other garments from brands such as Universal Works, De Bonne Facture, Peregrine, Soulive, Orslow, and so on will appear in addition to pieces from Our Legacy. Usually these lists also indicate the seller's willingness to exchange their items for those signed by the brands mentioned - but more often than not they serve as guides into the unsponsored world of contemporary minimalist menswear, a mixture of Italian, French, American, and Japanese brands that share the same "simple-but-not-basic" aesthetic, inspired a little bit by workwear and a little bit by minimalist luxury, that betray an eye up for the quality of those who choose them without ever being frivolous or too commercial.
The best part is that in these strings of names often lacking even commas or capitals hide brilliant mentions to brands that, sought after, offer little gems: selvedge jeans by Sugar Cane or Studio D'Artisan made in Japan, leather jackets by Vencouvert Paris and shirts by Drapeau Noir, hyper-minimal pieces by A Vontade or Bonne Gueule. For Italian brands we find a lot of Roberto Collina, Valstar, Boglioli and Buttero to name a few, but British brands such as Mackintosh and Harris Tweed are also represented. Much of this repertoire, on the other hand, consists of American, French and Japanese slow fashion brands that produce in Europe like Schnayderman's or Hartford or belong to the Japanese-American world like The Real McCoy's or Momotaro. It is easy to find these and numerous others-all pertaining to the kind of slow fashion promoted by retailers like @nomanwalksalone to give perhaps the best example but which, in the Milanese reality, exists with Eral 55 or that cult vintage and archive stores such as The Archivist in Paris, Herr Judit in Stockholm or Archivio Fuorviante here in Italy carry on with their own selections and favored brands.
The most interesting part, however, remains the way in which these innovative platforms (which also include TikTok where the hashtag #vintedhacks has 11.3 million views) are able to promote and spread cult brands from uncommercial and in some ways old-fashioned production models that still do things the old-fashioned way, gradually forming an intermediate substrate between globalized fast fashion/high street and more expensive luxury fashion - proving, among other things, that the latter does not have the absolute upper hand in terms of quality, style, history and construction. The world of minimalist menswear on Vinted, by the way, is moving from the realm of cheap secondhand to the realm of ethical consumption and, finally, to the realm of actual culture considering how a growing number of content creators (the first that come to mind are the French Paul Binam and @homme_vide) are promoting a post-traditional, post-streetwear aesthetic in which A Kind of Guise cardigans or Solid Homme coats are mixed with Asics or New Balance sneakers to vintage bags from Dior or Chanel.